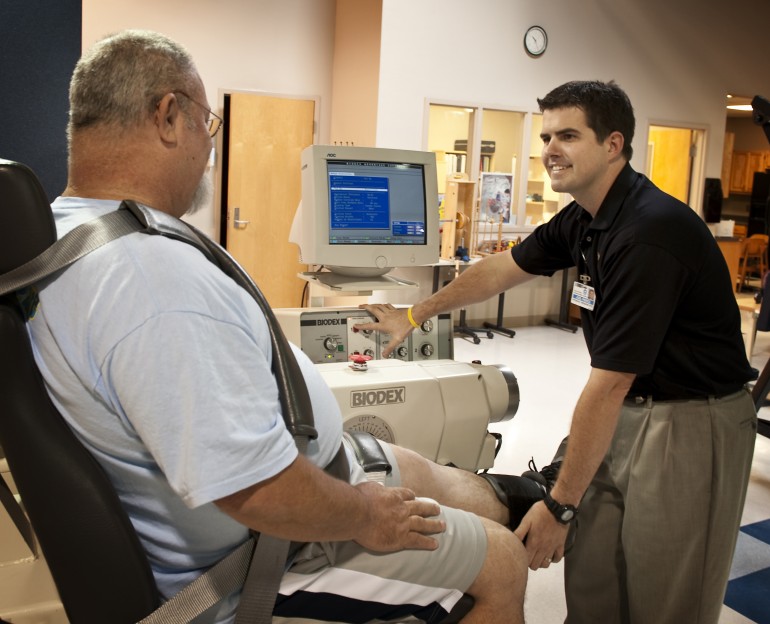 South Central Regional Medical Center's Outpatient Therapy Center offers a variety of services, including Physical Therapy, Occupational Therapy and Speech Therapy.  We have convenient locations in Laurel, Taylorsville and Ellisville
What is Physical Therapy?
Physical Therapy helps preserve, develop and restore physical function. It can help restore physical health that has been lost due to injury, disease or other causes.
Physical Therapy may include treatment for pain, muscle spasm, range of motion, strength, posture, balance and endurance. Based on a patient's needs, specific goals are set for each individual. Some typical goals might be to improve range of motion of a joint, to increase strength in a muscle or to improve the ability to walk.
Because we emphasize active participation and responsibility, we provide you with the information to self-manage your condition between appointments and teach you how to live a healthier lifestyle.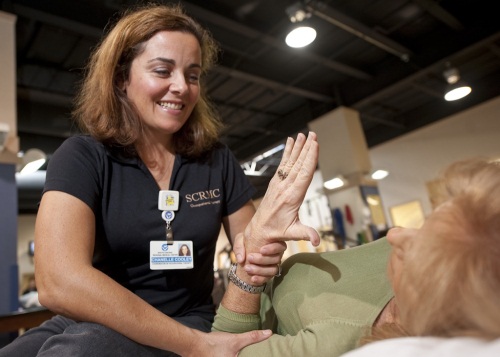 What is Occupational Therapy?
Occupational Therapy helps patients return to activities related to their duties at work and home and helps them regain skills and overcome obstacles. Occupational Therapy treatments can include modalities for pain control or muscle stimulation, hand therapy and activities to improve sensory motor processing in pediatric and adult patients with neurological deficits. The primary goal of Occupational Therapy is to attain independence in all areas of function by implementing treatment goals.
What is Speech Therapy?
Speech Therapy helps restore speech, language, voice and swallowing after a stroke and preserves these functions in patients with Parkinson's disease, Dementia and other Neurological diseases. Speech Therapy also helps develop speech, language and swallowing for pediatric patients.
Speech Therapy uses many methods to preserve, restore or develop speech, language, voice or swallowing. One method may include electrical stimulation known as Vital Stim. Other methods include Oral Motor Therapy, Apraxia Therapy and Voice Therapy.
Our Staff
Many of our therapists have over 30 years experience with specialized certifications including manual therapy, sports medicine, vestibular rehab and lymphaedema management.   From the initial evaluation until the time of discharge, patients receive one-on-one care from our team, a compassionate and skilled group of licensed therapists and therapist assistants.
South Central Regional Medical Center Therapy Services cover:
Aquatic Therapy
Outpatient Orthopedics
Speech and Swallowing Therapy
Pediatrics – Developmental Delays
Sports Medicine
Work Injury Rehabilitation
Hand Therapy
Stroke Rehabilitation
Joint Replacement Recovery
Arthritis
Work & Sports Injuries
Carpal Tunnel Syndrome
Neck/Back Pain
Vestibular/Balance Rehabilitation
Cardiac and Pulmonary Rehabilitation
Joint Camp

South Central Regional Medical Center is pleased to provide Joint Camp, a comprehensive joint replacement program which includes the involvement of your surgeon, physical therapists, occupational therapists, nurses, social workers, a program coordinator and many other team members. South Central's Joint Camp program is designed to streamline the process and return you to an active lifestyle as quickly as possible.
Pre-habilitation (Pre-hab) evaluation with occupational and physical therapy to help prepare you for your surgery.
Educational material for you and your "coach."
Customized list of equipment that is specific to your needs.
Placement on Unit 2 West after surgery with a dedicated nursing staff that specializes in orthopaedic care.
Occupational and physical therapy twice a day performed in our therapy area.
Coordinated care throughout your process.
Written instructions for exercises, precautions and discharge care.
A program coordinator who will follow your progress from your initial appointment with the surgeon all the way through your rehabilitation phase.
We strive to provide innovative, comprehensive care to patients who have elected to undergo total joint replacement surgery. The goal of our Joint Camp team is to restore you to a functional status, and to make your hospital stay as beneficial, informative and comfortable as possible.
For more information about South Central's Outpatient Rehabilitation, please call 601.399.0534. South Central Outpatient Rehabilitation is located at 23 Mason Street, Laurel, MS 39440. 
For more information about South Central's Inpatient Rehabilitation, please call 601.426.4119. South Central Inpatient Rehabilitation is located on the First Floor at SCRMC.