JONES COUNTY PHYSICIAN HONORED AS MISSISSIPPI'S FAMILY PHYSICIAN OF THE YEAR
Dr. Jack Colbert Evans of Laurel was honored as Mississippi's Family Physician of the Year 2020 at the Mississippi Academy of Family Physicians (MAFP) Annual Meeting in July.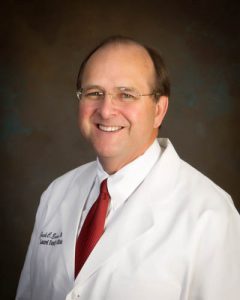 The John B. Howell, MD, Memorial Award, as the Family Physician of the Year award is formally known, was first given in 1977 in memory of Dr. Howell, a pioneer in the practice of family medicine and long-time Mississippi delegate to the American Academy of Family Physicians (AAFP). The individuals who have held the title exemplify the most outstanding qualities of a family physician. They are admired by their peers and looked up to by citizens of their communities.
Dr. John Hassell of Laurel, the MAFP's Family Physician of the Year 2016, announced Dr. Evans as the winner of the award. "Dr. Evans is the consummate family physician," Hassell said of Evans. "He has shown the utmost in compassion, loyalty, perseverance, and wisdom as we have faced the daily adventures of medical practice."
"I am so humbled by this award," Dr. Evans said to a group of family physicians when he was surprised with the news that he was being honored, "because I do nothing different than what you all do each day." He thanked his family, Dr. Hassell and the Academy for the honor.
Dr. Evans is a Fellow of the American Academy of Family Physicians who has served the people of Laurel and the surrounding area since 1983. He is on medical staff at South Central Regional Medical Center in Laurel and practices at Laurel Family Clinic. Dr. Evans has served as a past chief of staff and chair of the Department of Medicine.
Dr. Evans graduated from East Central Community College and the University of Mississippi before going on to the University of Mississippi School of Medicine. After graduating medical school in 1980, he completed a family medicine internship at the University of Tennessee in Memphis and a 3-year residency in family medicine at the University of Mississippi Medical Center. He has continued his education by completing five periodic board certification exams by the American Board of Family Medicine.
Dr. Evans has been involved in the Mississippi Academy of Family Physicians for many years. He served on the Board of Directors representing his area of the state and served as program director for the MAFP's Annual Scientific Assembly. He is a past president of the South Mississippi Medical Society and a past director of the Mississippi Foundation for Medical Care.
Dr. Evans is no stranger to awards, having been honored as ECCC's Alumnus of the Year, the Laurel Leader Call's "Best Doctor in Jones County" reader's choice award, and having been selected by his peers to be among "Best Doctors in America." He also earned the A.A. Derrick Award for his significant contribution to the support of quality medicine.
Dr. Evans and his wife, Betty, have been married for 46 years. They have three adult children, Eric, Laurie, and Emily, and seven grandchildren. Dr. Evans is an active member of First Baptist Church of Laurel, having taught Sunday School and served as a deacon and deacon chair. For the past 25 years, he has volunteered time each month at the Good Shepherd Clinic in Laurel serving needy patients.
 The MAFP has over 1,300 members consisting of physicians, residents and medical students.  Its mission is to support Family Medicine physicians as they improve the health of all Mississippians.