Return Home with Personalized Care.
Home Health Services Available Through ComfortCare Home Health
In April of 2021, local resident, Wyth Collins, was diagnosed with Burkitt's Lymphoma, which is a rare but highly aggressive B-cell non-Hodgkin lymphoma. This disease can affect the jaw, central nervous system, bowel, kidneys, ovaries or other organs. Wyth was diagnosed at South Central Regional Medical Center (SCRMC), however due to the complexity of the cancer, she was transferred to the University of Alabama at Birmingham Hospital (UAB).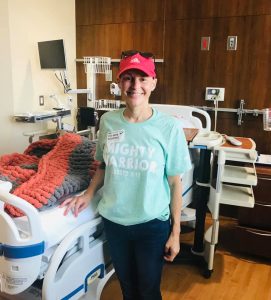 Wyth explains her journey, "Once I was admitted to UAB, I had to undergo inpatient chemotherapy because it was too strong of a regiment to do outpatient. I went through four rounds of chemotherapy there. In between each round, I was able to come home with my PICC line and receive some lab work locally. The PICC line has to be flushed daily and the dressing has to be changed weekly. This is a sterile procedure that cannot be done yourself, so it led us to receive home health and we selected ComfortCare Home Health in Laurel."
The goal of ComfortCare Home Health, a division of SCRMC, is to return the patient to his or her maximum level of functioning. ComfortCare Home Health provides high-quality health services in a home setting tailored to meet the individual needs of each patient. The skilled nurses specialize in wound/ostomy/continence care, diabetic care and oncology/chemotherapy care.
"I was discharged from UAB on a Saturday, and ComfortCare came to my home that Saturday with supplies, education and provided service. They taught us how to do everything necessary to keep me as healthy as possible in-between visits for inpatient chemo. It was helpful that they provided a binder with education and emergency contact information in case an emergency arose. They spent a lot of time with us to make sure we were comfortable. The nurses would visit once a week to change my dressings, they would call daily to check our schedule; help with lab work or doctor's appointments."
ComfortCare Home Health promotes continuity. The patient's own physician continues to oversee his or her care.
"It was beneficial that the staff took time to ask about my diet, any changes in medications, and planning and discharge from my next visit at UAB. Even though UAB was far from Laurel, ComfortCare worked really seamlessly with their team and SCRMC, because I had doctors in both facilities working on my case."
Home health is beneficial because it is personalized and tailored to the needs of each individual. Patients receive one-on-one care and attention.
Wyth continues, "I was kind of unique. UAB allowed me to come home a little bit more than normal cases because my local healthcare team at SCRMC really supported me being home, receiving blood and getting bloodwork locally. So instead of being an inpatient for six weeks at a time, I would be at UAB for about a week and come home with home health."
Home health provides a safe environment to help patients heal. Many risks, such as infection, are eliminated or minimized when care is given at home.
"In my situation, the chemo wiped out my immune system, so by having home health I did not have to go to the hospital to have these things done. I did not have to wait in a waiting room and be exposed to sick people. The home health staff came to my house, so it decreased my risk of contracting infection. It was extremely comforting for me to be home, and have that level of treatment and support."
Wyth has been employed at South Central Regional Medical Center for 13 years. She serves as the Director of EMServ and Disaster Planning. She stated, "South Central is my family. When I came home to receive treatment, I came back to my South Central family. I felt protected and cared for, but the great thing is that they offer that same care to everyone – whether they are a member of the community or work within our healthcare family – the goal at SCRMC is to offer excellent care with every patient that enters our facility."
Home health costs much less than hospital or nursing home care and is many times covered services that may be paid through Medicare, Medicaid and most insurance plans. The services for home health are not limited to any age group. All home health services are directed by your physician and care is delivered through a team consisting of nurses, nurse aids, social workers, therapists, dieticians and others. ComfortCare Home Health is available 24 hours a day and 7 days a week, by calling 601-425-7521. To learn more, please click here.