BOTOX on Sale! | Cosmetic and Plastic Surgery Center
Posted on June 7, 2022
Buy 40 units, Get 10 free units during the month of June!
Botox is one of the most common facial rejuvenation procedures. One of the most significant benefits of getting Botox treatment is that it is an easy way to enhance your natural beauty. Botox is used as an anti-aging treatment, as it is an easy way to lessen the appearance of wrinkles.
This means that Botox injections can improve anything from severe forehead lines to frown lines and all parts in between. Because these areas are what people notice first when they meet you, getting Botox is an easy way to improve your appearance and make a better first impression.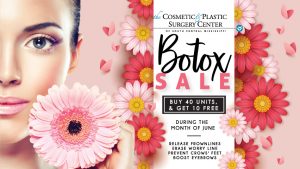 Click here
 to visit our website to learn more about the Cosmetic & Plastic Surgery Center.