Close-to-Home Orthopedic Care Available in Waynesboro
Posted on November 3, 2022
South Central Orthopedics is pleased to offer orthopedic services in Waynesboro, Mississippi. In collaboration with Wayne General Hospital, Derrick L. Burgess, MD, Orthopedic Surgeon, is providing full orthopedic care and treatment for patients of all ages.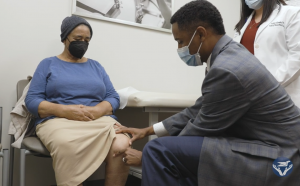 "From pediatrics to fracture care, arthritis, sports medicine and general orthopedics, we are there to provide excellent orthopedic care for the residents in and around the Waynesboro area," said Dr. Burgess. "The orthopedic care is for all ages.  One of my youngest patients was three years old through 85 or 90, so it is a full spectrum of orthopedic care."
The Waynesboro clinic office offers general orthopedic care for a variety of bone, muscle and joint issues. Our program includes an experienced surgeon and specialist who provides innovative surgical and non-surgical options to help patients reach their personal goals. Also included are on-site x-ray, CT scans, and injections for the knee or shoulder. South Central Orthopedics works closely with the physicians, nurses and clinical staff at Wayne General Hospital, as well as other community physicians.
Dr. Burgess states, "It has been a great experience working together with Wayne General Hospital.  I felt that I already had a well-established relationship with the referrals that I was treating, but it is different being in someone's hometown providing care for them. By providing ease of access in this area, we are able to save patients from traveling while experiencing pain or injury."
Whether you are an athlete recovering from an injury or you are ready to live life without discomfort and pain, South Central Orthopedics is here to help. To schedule an appointment at South Central Orthopedics in Waynesboro, please call (601) 735-7285. The facility is located at 940 Matthew Drive, Suite 5, Waynesboro, MS. For more information, visit scrmc.com.