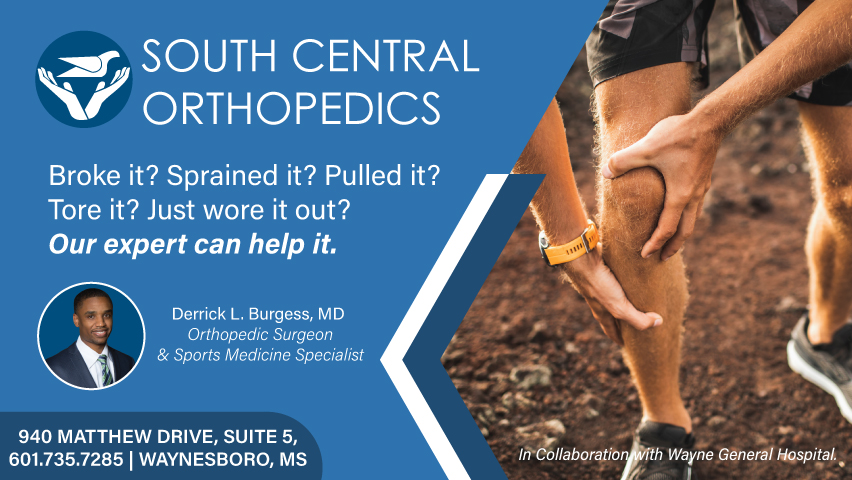 South Central Orthopedics offers close-to-home care in Waynesboro for a variety of bone, muscle and joint issues. Our program includes an experienced surgeon and specialist who provides innovative surgical and non-surgical options to help you reach personal goals. Whether you are an athlete recovering from an injury or you are ready to live life without discomfort and pain, South Central Orthopedics is here to help.
Call (601) 735-7285 to make an appointment today. 940 Matthew Drive, Suite 5, Waynesboro, MS.
Click here to access our secure South Central Clinics Patient Portal.
South Central Orthopedics offers a number of surgical and non-surgical services to provide complete orthopedic care to south Mississippi.  Services include:
Sports Related Injuries
Adult and Pediatric Services
Arthroscopic Surgery
Fracture Care
General Orthopedic Care
Joint Replacement
Ligament Reconstruction Surgery
Pediatric Fracture Care
Rotator Cuff Repair
Shoulder Instability Surgery
Viscosupplementation Injections
South Central Orthopedics Physicians provide comprehensive sports medicine care through our South Central Sports Medicine program. To learn more about South Central Sports Medicine, please visit our website at SouthCentralSportsMedicine.com.
South Central Orthopedics is accepting new patients.
Medicare, Medicaid, Worker's Compensation and Most Commercial Insurance Plans are Accepted.
To schedule an appointment, please call (601) 735-7285.