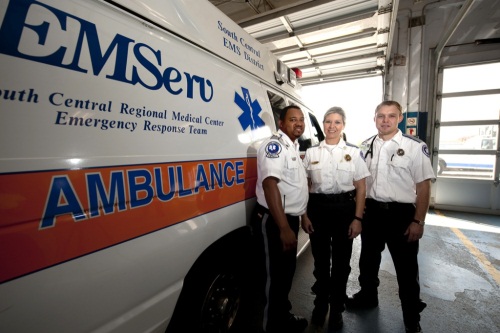 In the event of an emergency, call 911. For information about EMServ Ambulance Service, please call (601) 399-0520.
EMServ, South Central Regional Medical Center's Emergency Medical Services Division, operates a full-scale ambulance service.  Staffed by licensed paramedics and emergency medical technicians, EMServ's ambulances transport patients quickly and safely.  In an emergency situation, rapid medical care is everything.  EMServ proudly offers educational programs to the general public, industry, and medical agencies.
EMServ is proud to offer educational classes for the South Central EMS District. For more information, to register or receive course material, contact Wyth Collins at 601-399-0529 or Ernest Hollingsworth at 601-399-0521. All classes will be held at South Central Place located at 2260 Hwy 15 North between Arby's and Kroger.
2015 Education Calendar
December
Tuesday, December 1 BLS – HCP 08:30 – 4:30
Monday, December 7 PEARS 08:30 – 4:30
Tuesday, December 15 ACLS 08:30 – 4:30
Tuesday, December 29 PALS 08:30 – 4:30
AHA does not require you to carry a HCP CPR card if you have ACLS but you must be proficient in CPR to complete an ACLS Course.