Local Church Provides NICU Care Packages | SCRMC
Posted on March 8, 2017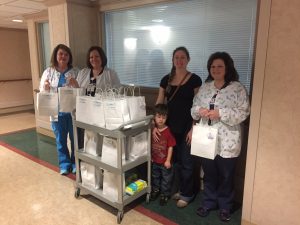 During the month of February, First Baptist Church of Ellisville's K4 and K5 Sunday School class packaged and delivered NICU care packages to South Central Regional Medical Center's NICU Nursery. Care packages included items for parents, siblings and NICU baby to make their time at the hospital more comfortable.
Connie Landrum, RN, Director of The Women's and Children's Place at SCRMC, stated, "We are very thankful and appreciative of these students and their families for their donation to our NICU families. These care packages will be given to each family that is admitted to our NICU. We hope the packages will provide each family a little joy during their stay."
The 20 care packages will be provided to each family admitted to the NICU at SCRMC. For more information about South Central's Women's and Children's Place, please visit scrmc.com. For more information about supporting services at SCRMC, please call 601.399.0503 or email bcollins@scrmc.com.