From regular eye exams to expert surgical interventions,  South Central Eye & Laser Center will provide you with an accurate evaluation of your eyes. Our team takes your vision seriously and provides quality care for a variety of eye disease and vision problems.
South Central Eye & Laser Center specializes in:
Diabetic Retinopathy
Eye Exams
Cataract Surgery
Glaucoma Laser Surgery
Macular Degeneration
Flashes and Floaters
Tear Duct Surgery
For more information, please call (601) 426.9454.
Click Here to Access South Central Eye & Laser Center's Patient Portal
The patient portal –EMA – is online health management tool for all patients that allows for account access at any time and any location. Patient information is HIPAA compliant and provides you with the ability to securely view, store and share your health information.
South Central Eye & Laser Center welcomes optician, Kalea Lunsford.
Kalea, a graduate of the University of Southern Mississippi, has practiced in the optical setting since 2017. When asked what her goal was as an optician, she responded, "creating a positive experience for all patients." Kalea works with local optometrists and ophthalmologists. Her training involves generating and edging single vision and multi-focal lenses, along with general adjustments and specialized fit to suit the patient's specifics needs and style. Kalea will receive her board certification in optical services in the spring of 2022.
To learn more about optical services available at South Central Eye & Laser Center, call 601-426-9454. The facility is located at 1020 Adams Street in Laurel.
COMING SOON! South Central Eye & Laser Center will same day services and tinting on glasses.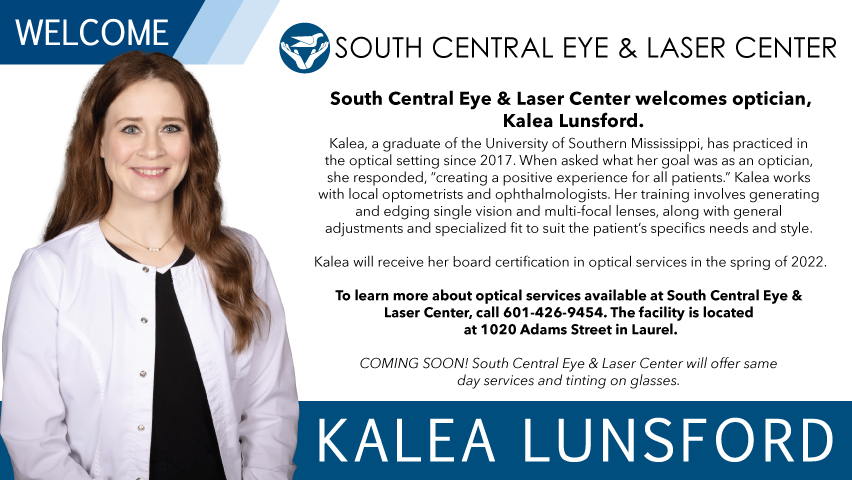 This facility is a clinic owned by South Central Regional Medical Center. Office visits are subject to co-pays. You may also be responsible for co-insurance and deductible for office procedures and ancillary services, such as laboratory services and x-rays when performed.