Specialty
Address
1410 Jefferson Street
Laurel, MS 39440
Contact
info@scrmc.com
601-425-4860
Hours
Monday - Friday
8 a.m. - 5 p.m.
To access our South Central Dermatology Patient Portal, please CLICK HERE.
South Central Dermatology specializes in the following areas of service:
MOHS Surgery
Skin Cancer
Skin Infections
Psoriasis
Photodynamic Therapy
PUVA Light Therapy
XTRAC
Treatment of Acne
All conditions related to Skin, Hair and Nails.
South Central Dermatology is accepting new patients.
Medicare, Medicaid and Most Commercial Insurance Plans are Accepted.
For an appointment, please call (601) 425-4860
Telehealth Dermatology Services Now Available
Are you suffering with skin conditions, but have a hard time getting to a medical clinic? Don't worry! South Central Dermatology has telehealth services for you! Receive Dermatology treatment from the comfort of your home by using telehealth services.
Brittany Gardner, FNP, with South Central Dermatology is now offering telehealth services. Assessment includes: acne, eczema, psoriasis, warts and conditions related to the hair, skin and nails.
Call today us today at 601-425-4860 to see if South Central Dermatology Telehealth services are available for your needs.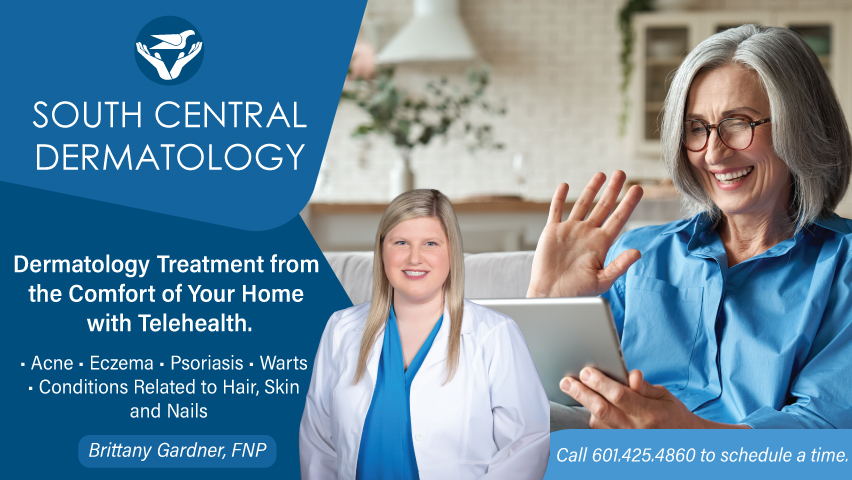 This facility is a clinic owned by South Central Regional Medical Center. Office visits are subject to co-pays. You may also be responsible for co-insurance and deductible for office procedures and ancillary services, such as laboratory services and x-rays when performed.