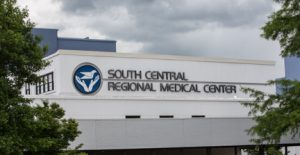 South Central Regional Medical Center is a 285-bed, public not-for-profit hospital located in Laurel, MS founded in 1952. The hospital primarily serves a 4-county area: Jones County, Jasper County, Wayne County and Smith County. The primary focus of the South Central Regional Medical Center Health System is to provide excellent healthcare services to the residents of South Central Mississippi and to improve the quality of life in the region.
With more than 80 physicians on staff representing 28 medical specialties, South Central continues to meet the healthcare needs of a growing region. With over 2,100 employees throughout the health system, the highly skilled healthcare professionals work with cutting-edge technologies and offer the most modern diagnostic and treatment options.
Mission of South Central Regional Medical Center:
Excellent Care and Service. Every Patient. Every Interaction. Every Time.
Vision of South Central Regional Medical Center:
By providing excellent care and service, we will become the healthcare provider of choice.
Updated Visiting Hours – Effective March 27, 2020, South Central will have the following visiting hours and policies:
Adult patients are not permitted to have visitors except in certain circumstances outlined below.
Pediatric patients are permitted to have only one adult visitor, but must be a parent, guardian or approved caregiver.
The exceptions to this revised visitor policy include:
Obstetric patients may be accompanied by one visitor.
Adult patients who have been determined by the care team to be at the "end-of-life" may be visited by members of the immediate family.
Adult patients with special needs, for whom a family member is essential to their care, may have one visitor.
Examples include: dementia and mobility impairments with increased risk of injury
All visitors who are permitted within the hospital will be screened. Visitors who exhibit symptoms associated with
respiratory illness (fever of 100.4 or higher, cough, shortness of breath) will not be allowed to enter under any
circumstances.
SCRMC appreciates your patience as we transition to this policy. Please continue to wash your hands frequently with soap and water or hand sanitizer if visiting a patient. Hand sanitizer stations are located throughout the hospital. Please make sure that you apply hand hygiene before and after patient contact.