Sunshine and Summer Time. Don't Forget the Sunscreen!
During the summer season of pool parties and outdoor activities, it is easy to forget about the harmful properties of the sun's rays. About 1 million Americans will develop skin cancer each year, according to the National Cancer Institute. That makes skin cancer—not breast cancer, prostate cancer or even lung cancer—the number-one cancer threat.
The American Cancer Society lists skin cancer as the most common type of skin cancer. With this looming statistic, it is important to be educated on what causes skin cancer and how to lower your risk factor. Ultraviolet (UV) radiation is the leading contributor to contracting melanoma skin cancer. Prolonged or unprotected exposure to these UV Rays damages the DNA of skin cells. When the genes that control skin cell growth are damaged, skin cancer is formed.
Tanning beds use an artificial light source made entirely of UV rays. Risk of contracting melanoma skin cancer increases 4 percentage from the first time a person uses a tanning bed. By cutting out this form of tanning, people significantly decrease their risk factor. There are several alternative ways to get a natural looking tan without subjecting your skin to this harsh method. South Central Dermatology now offers Tan Towels, a product that creates a sunless, healthy looking tan.
The UV rays found in natural sunlight are significantly lesser than those in artificial light, yet can still be hazardous if ignored. Ashlynn Martin, FNP, at South Central Dermatology Clinic in Laurel explains. "It is important when you are outside, to wear sunscreen with at least a SPF of 30 and containing the ingredients titanium and zinc," says Martin. "The peak hours of UV exposure are from 11 am to 4 pm, so be sure to monitor your time in the direct sunlight during these hours. These simple steps will significantly aid in prevention."
Skin cancer can also be genetic. If your family has a history of skin cancer it is imperative to be extra cautious when enjoying the sun. "We recommend that everyone has a regular screening for pre-existing moles," states Martin. "Also, it is important to be aware of any new moles you may develop and be sure to notify your dermatologist of these."
When checking moles, remember your "ABCs":
Asymmetry: One side of the mole does not match the other.
Border: A mole's outline is jagged or blurry.
Color: The color is uneven. You may notice different shades of tan, black and brown. Areas of white, gray, red, pink or blue also may be present.
Diameter: The mole is larger than ¼ inch in diameter—about the size of a pencil eraser.
Elevation: Be cautious of moles that are raised above the skin's surface.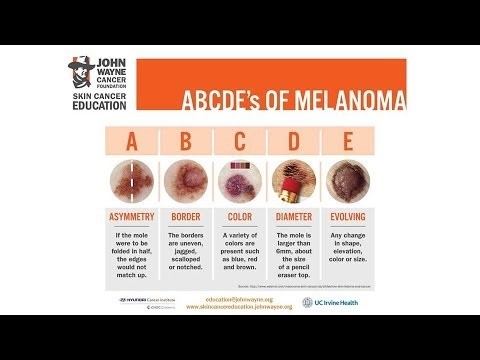 To detect skin cancer at an early stage, get familiar with your moles and birthmarks. Then, every month, check your entire body in the mirror for skin changes, including your back, scalp and feet. A handheld mirror can help ensure a thorough self-exam. Each year it is important to schedule an annual screening with your Dermatologist. Ask your doctor to check out anything that concerns you.
These preventative steps are easy, yet skin cancer is still the most common form of cancer. It is important to know the facts about what increases and decreases personal risk for melanoma skin cancer to better combat it. "You can enjoy the sun and get the tan you want while being safe," states Martin. "This summer, be aware of your exposure to UV rays and wear sunscreen."
To schedule an appointment for a screening or for more information on skin cancer, please contact South Central Dermatology Clinic at 601-425-4860 or visit scrmc.com. South Central Dermatology is located at 1410 Jefferson Street in Laurel. South Central Dermatology specializes in the following areas of service: MOHS Surgery, Skin Cancer, Skin Infections, Psoriasis, Treatment of Acne and all conditions related to Skin, Hair and Nails. South Central Dermatology is accepting new patients. Medicare, Medicaid and Most Commercial Insurance Plans are accepted.