Lunch and Learn | November 3
Posted on October 30, 2017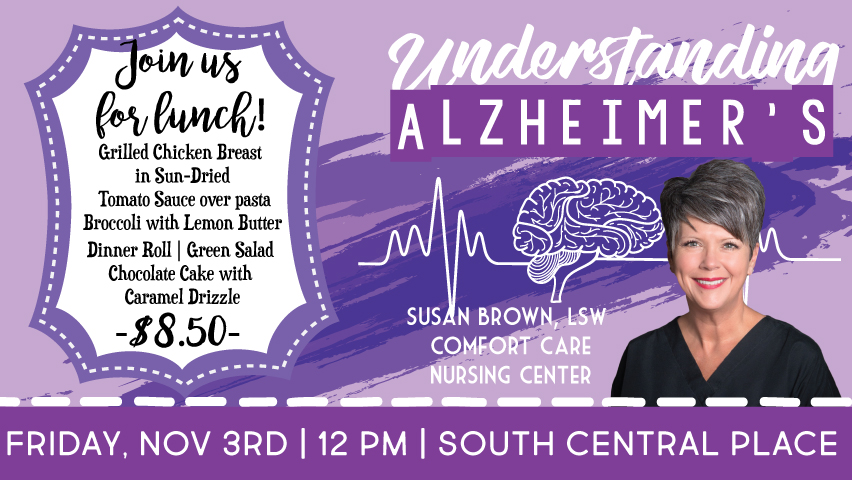 November is National Alzheimer's Awareness Month.
Alzheimer's is a disease that can affect not only the elderly but younger people as well. Susan Brown, LSW, at Comfort Care Nursing Center explains the signs to look for in loved ones. "Caregivers will notice things such as beginning to lose memory. Some of those things are normal, everyday occurrences, but if you use ordinary things and find them in unusual places like your keys in the refrigerator or if you get in the car and go somewhere and you can't remember where you're going, then it is more than a usual memory loss."
If you or someone you love experiences any of these symptoms, the first step is to speak to your family medicine provider. The physician will be able to discuss with the family and the person if there are some options available. There is nothing to treat it, but there are some things that they can use to help slow the progression. An Alzheimer's diagnosis is life changing for the whole family, that is why South Central Regional Medical Center offers a Caregiver Support Group for the community. It meets the first Friday of each month at 10 A.M. at Comfort Care Nursing Center.
On Friday, November 3rd, Susan will provide an educational luncheon: Understanding Alzheimer's. The lunch will be held at South Central Place in Laurel from 12 p.m. – 1 p.m. This event is open to all. To register for an educational luncheon about Alzheimer's set for Friday, November 3rd, call (601) 399-0506.