The greatest independence that one is given is the ability to communicate, yet for many children this is not possible. Anything that impairs a child's ability to communicate, limits their life. Communication disorders come in many forms like stuttering, difficulty pronouncing words, delayed speech or language, difficulty comprehending words, difficulty expressing thoughts or extreme hoarseness. These problems can affect anyone and isolate us from other people.
With help from South Central Regional Medical Center's Speech Therapy program, patients are provided a wide array of services to help treat their speech therapy needs. Ashley Shoemaker, MSCCC-SLP, Speech Pathologist at SCRMC explains various techniques used through therapy at the South Central Wellness and Rehabilitation Center in Laurel.
"Speech therapy includes the treatment of speech and language disorders. There are various speech impediments that our certified speech language pathologists treat in the Speech Therapy program at the South Central Wellness and Rehabilitation Center," states Shoemaker. "We see children for complications from pre-maturity, difficulty with feeding, eating and swallowing, speech and language problems, delayed speech development, disordered speech and language development, unintelligible speech, and stuttering."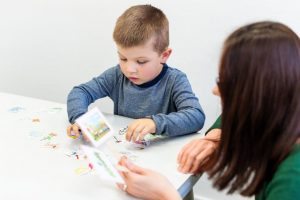 During speech therapy, the patients at South Central may work on oral dysphagia.  Sometimes, children have difficulty with different consistencies and textures of food.  Difficulties with swallowing can occur with drinking or eating.  These deficits may be caused by weakness with these muscles or other disorders.  Therapy can be used to increase the patient's strength and coordination of the muscles to make swallowing safer and easier.  This will help to target any difficulty they may have with actually swallowing liquids and foods.
For patients, the ability to participate in the little things of life again, to sit down and have a meal with a family or to enjoy a conversation with their family is the goal of the providers. By providing speech therapy services offered at the South Central Rehabilitation and Wellness Center, patients are able to receive extensive care needed to work toward their goals.
"Patients being able to independently communicate what they want and what they need, is the goal of our service," states Shoemaker. "The certified speech language pathologists all share the same objective, to exceed patient expectations."
If you know of someone who is experiencing communication problems, help is available. A physician referral is required. Pediatric Speech Therapy is offered at South Central's Wellness and Rehabilitation Center at 23 Mason Street in Laurel. For more information about the program, please call 601-399-0539 or visit scrmc.com.