Parkinson's Wellness Recovery Program: Working Together to Improve Quality of Life for Patients with Parkinson's Disease
Parkinson's disease is a progressive disorder of the nervous system that affects movement as certain nerve cells in the brain gradually break down or die. Many believe Parkinson's disease is a death sentence, but if treated, the disease is manageable for those who have been diagnosed. To aid in managing the disease, South Central Regional Medical Center (SCRMC) hosts a therapy treatment program called Parkinson's Wellness Recovery.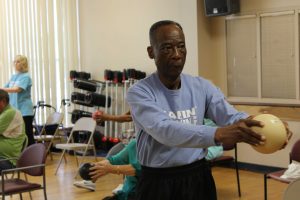 Dr. Eugene Owens, a Parkinson's patient, discusses living with the disease. "People who are diagnosed with Parkinson's disease initially notice maybe a small tremor, stiffness in their back or legs, small handwriting or diminished balance. Parkinson's disease can be very painful and disabling before treatment. After receiving treatment, there is a major difference in a person's quality of life."
The symptoms of Parkinson's disease are not always noticeable, so it is important to listen to your body and be proactive about your health. There are a lot of productive years of life ahead for a person diagnosed with Parkinson's disease.  They are able to return to work with less difficulty, enjoy life and participate in family activities.
The Parkinson's Wellness Recovery program (known as PWR! Moves) is based around movement which assists people diagnosed with Parkinson's because mobility is one of the senses that is lost. Simple, daily tasks such as being able to get in and out of a car or being able to walk is very difficult. The PWR! Moves program teaches Parkinson's disease patients how to regain control and become more functional.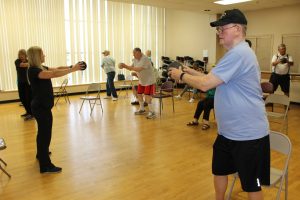 Kourtney Murphy, DPT at SCRMC, received her certification to instruct the PWR! Moves program to patients locally. Murphy explains the program, "The program integrates a research-based exercise approach in community and rehabilitation settings. The system allow those who live with Parkinson's to develop individual successes through a lifelong exercise routine."
"This group is an educational and active group that will learn more about Parkinson's and work with a licensed therapist to complete the exercises of the PWR! Moves curriculum," said Dr. Owens. "When I first attended the class, I thought I would just observe. Then, before I knew it I was involved in the activities. I have experienced many benefits by participating. We have a very close-knit group who constantly encourages each other."
SCRMC encourages those who would like to learn more about Parkinson's disease or the PWR! Moves, to attend the class at the South Central Wellness Center on Mondays, Wednesdays and Fridays at 11 a.m. To learn more about rehabilitation services offered through SCRMC, visit scrmc.com.