Coronavirus
For public information regarding COVID-19, please click the links below:
Centers for Disease Control and Prevention (CDC)  – www.cdc.gov
Mississippi State Department of Health Coronavirus –  www.msdh.ms.gov
South Central Wellness Center Closed | Membership Payments Suspended
Updated 3.16.20 at 9:30 a.m.
Due to the Mississippi State Department of Health recommendations, the South Central Wellness Center is closed. Closure of the Wellness Center will continue until further notice.
All bank drafts have been suspended until operations resume. Members who have already paid for time during closure will receive an account credit.
For updates, continue to follow us on Facebook or visit scrmc.com. Your membership and health are very important to us. We are sorry for any inconvenience.
South Central Regional Medical Center Officials Talk About Coronavirus Preparedness
Updated 3.13.20 at 11:15 a.m.
Provided by IMPACT – www.Impact601.com – The normality of financial markets, travel, work schedules and public events are all being disrupted as the world's attention remains riveted to continual updates of the Coronavirus. Here at home, officials at South Central Regional Medical Center in Laurel recognize the seriousness of the COVID-19 outbreak, but they are encouraging people to plan, not panic.
"The purpose of this press conference today is for us to share with our community what we're doing at South Central to respond to the Coronavirus, or COVID-19," offered Dr. Teresa Camp-Rogers as she opened up the meeting with local media on Thursday, March 12.
Camp-Rogers is the chief quality officer at SCRMC.
"As we all know, there was a case confirmed in Forrest County, and that's really close to us. We at South Central have been following the Coronavirus since mid-January, and what we've been doing since that time is planning operationally to protect our staff and treat our patients and community," she added. "We're following closely the MSDH and CDC guidelines on the evaluation and treatment of patients with COVID-19. We're working with regional hospitals and EMS to have a coordinated response."
To help mitigate the spread of the virus in the local area, SCRMC is requesting that the general public refrain from visiting the hospital unless an illness requires it.
"At this time what we're asking from South Central is limiting visitation to the hospital; we're asking our community to limit coming to the hospital," said Camp-Rogers. "If you need to come to the ER because you're ill, that's what we do. We're talking about visiting patients in the hospital. We need you to consider that very carefully."
Dr. Mark Horne, chief medical officer at the hospital, corroborated his colleague's statement.
"Unless you need to be here to receive health care, or unless you need to be here to help a loved one receive health care, please don't come just to visit. This is where it's gonna end up, with us," he noted. "If it's here, we need people to not come here, acquire it and then go back into the community and spread it more. The fewer people we have here, the easier it is for us to use our resources to help people. We love our patients. We love our community. Help us help you."
The doctors shared that each person that gets the virus has the potential to, on average, pass it to 2 to 2.5 more people. If an individual has come in contact with someone with the COVID-19, or another virus like the flu, or if an individual gets confirmation that they have the Coronavirus, social isolation (staying at home until the symptoms dissipate) can help restrict the spread of the virus.
The primary symptoms of COVID-19 can closely mimic those of the flu and include fever, cough and shortness of breath.
Until the virus begins to die down, Horne recommends social distancing (staying a minimum of six feet away from others) in public places, something he conceded is counter-culture in the South. "We're Southerners. We like to gather together, have a glass of tea and a meal and meet together at church."
Nevertheless, the doctors promoted staying away from large social gatherings and using social distancing when public interaction is necessary. Large institutions, such as the nation's colleges, are following that advice as many have closed campus events. Even athletic conferences, like the SEC and C-USA, are shutting down basketball and baseball competition. Those shutdowns have affected Mississippi's universities.
The NCAA, the governing body of college athletics, has announced that fans will not be allowed to attend the college basketball tournament for Division 1 schools. Known as March Madness, the seven-round, single elimination event is a hugely popular national event that generates hundreds of millions of dollars in a few weeks.
"If you are sick, don't go into groups or crowds. Be honest with yourself and protect your fellow citizens," Horne urged.
The doctors said that treatment of the virus is mainly supportive and that most patients will recover at home with standard care, including rest, and by following guidelines established by the Centers for Disease Control and the Mississippi State Department of Health.
The doctors concurred that wearing face masks do not really offer any great preventive aid. Social distancing and good hygiene are better methods of prevention.
"Most people don't wear a face mask properly, so it gives a false sense of security," explained Horne. "If you know what you're doing, that's one thing. But the vast majority of people have no experience in putting on and taking off a mask."
Medical staffs use different masks than what the public has, and medical personnel wear the masks when they have prolonged contact with a patient being treated for the virus.
"This is not an end of the world event. I know a lot of people are scared, but it's not time for panic; it's time for concern and for doing the right things that will help diminish the rapid increase of this virus, which is a threat. We need people to work with us as we work with you. We're not panicking, we're planning," Horne emphasized.
Horne stated that individuals who may get a diagnosis of COVID-19 or who are self-isolating because they think they may have come in contact with the virus, should "prepare for a period of a few weeks that you'll be less public." Such preparation includes having an ample supply of one's prescription medications.
The hospital's website, SCRMC.com, will push out COVID-19 updates multiple times a day, and the hospital plans to have links to official sources of good information about the virus.
Updated 3.12.20 at 4:30 p.m.
Keeping the home safe: Encourage your family members to do the following –
All households
Clean hands at the door and at regular intervals
Create habits and reminders to avoid touching their face and cover coughs and sneezes
Disinfect surfaces like doorknobs, tables, and handrails regularly
Increase ventilation by opening windows or adjusting air conditioning
Households with vulnerable seniors or those with significant underlying conditions
Significant underlying conditions include heart, lung, kidney disease; diabetes; and conditions that suppress the immune system
Have the healthy people in the household conduct themselves as if they were a significant risk to the
person with underlying conditions. For example, wash hands frequently before interacting with the
person, such as by feeding or caring for the person
If possible, provide a protected space for vulnerable household members
Ensure all utensils and surfaces are cleaned regularly
Households with sick family members
Give sick members their own room if possible, and keep the door closed
Have only one family member care for them
Consider providing additional protections or more intensive care for household members over 65 years old or with underlying conditions
For more information regarding COVID-19, visit https://www.cdc.gov/coronavirus/2019-ncov/index.html
Updated 3.12.20 at 2:30 p.m.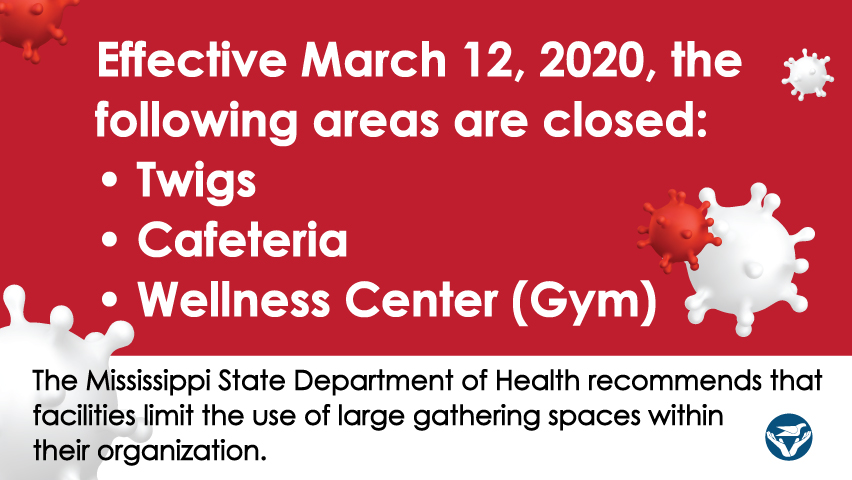 The Mississippi State Department of Health recommends that facilities limit the use of large gathering spaces within their organization. The South Central Cafeteria, South Central Gift Shop and South Central Wellness Center closed at 2 p.m. on Thursday, March 12, 2020 until further notice. For updates regarding the Coronavirus locally, visit scrmc.com.
Updated 3.12.20 at 10:50 a.m.
According to Mark Horne, MD, Chief Medical Officer at South Central Regional Medical Center, "We are receiving constant updates from the Mississippi State Department of Health and the Centers for Disease Control about the Coronavirus. Our healthcare team has a plan in place for those who may present with the condition."
Teresa Camp-Rogers, MD, Chief Quality Officer at SCRMC, indicates "We have been following this closely since mid-January and been planning for our hospital's response to this situation. The CDC has preventative guidelines in place for the public. Here is information about the Coronavirus that everyone should know."
Symptoms of the Coronavirus
Symptoms may appear 2-14 days after exposure:
Fever
Cough
Shortness of breath
Call your healthcare professional if you develop symptoms, and have been in close contact with a person known to have COVID-19 or if you have recently traveled from an area with widespread or ongoing community spread of COVID-19.
Prevention
There is currently no vaccine to prevent coronavirus disease 2019 (COVID-19). The best way to prevent illness is to avoid being exposed to this virus. However, as a reminder, the CDC always recommends everyday preventive actions to help prevent the spread of respiratory diseases, including:
Avoid close contact with people who are sick.
Avoid touching your eyes, nose, and mouth.
Stay home when you are sick.
Cover your cough or sneeze with a tissue, then throw the tissue in the trash.
Clean and disinfect frequently touched objects and surfaces using a regular household cleaning spray or wipe.
Follow CDC's recommendations for using a facemask.

CDC does not recommend that people who are well wear a facemask to protect themselves from respiratory diseases, including COVID-19.
Facemasks should be used by people who show symptoms of COVID-19 to help prevent the spread of the disease to others. The use of facemasks is also crucial for health workers and people who are taking care of someone in close settings (at home or in a health care facility).
Wash your hands often with soap and water for at least 20 seconds, especially after going to the bathroom; before eating; and after blowing your nose, coughing, or sneezing. ◦If soap and water are not readily available, use an alcohol-based hand sanitizer with at least 60% alcohol. Always wash hands with soap and water if hands are visibly dirty.
Stay Home Except to Get Medical Care
People who get the Coronavirus and are mildly ill are able to isolate at home during their illness. You should restrict activities outside your home, except for getting medical care. Do not go to work, school, or public areas if you have the condition. Avoid using public transportation, or ride-sharing.
Separate Yourself from Other People and Animals in Your Home If You Have the Coronavirus
People: As much as possible, you should stay in a specific room and away from other people in your home. Also, you should use a separate bathroom, if available.
Animals: You should restrict contact with pets and other animals while you are sick with COVID-19, just like you would around other people. Although there have not been reports of pets or other animals becoming sick with COVID-19, it is still recommended that people sick with COVID-19 limit contact with animals until more information is known about the virus. When possible, have another member of your household care for your animals while you are sick. If you must care for your pet or be around animals while you are sick, wash your hands before and after you interact with pets and wear a facemask.
Cover Your Coughs or Sneezes
Cover your mouth and nose with a tissue when you cough or sneeze. Throw used tissues in a lined trash can. Immediately wash your hands with soap and water for at least 20 seconds or, if soap and water are not available, clean your hands with an alcohol-based hand sanitizer that contains at least 60% alcohol.
Avoid Sharing Personal Household Items
You should not share dishes, drinking glasses, cups, eating utensils, towels, or bedding with other people or pets in your home. After using these items, they should be washed thoroughly with soap and water.
Monitor Your Symptoms
Seek prompt medical attention if your illness is worsening (e.g., difficulty breathing). Before seeking care, call your healthcare provider and tell them that you have, or are being evaluated for, COVID-19. Put on a facemask before you enter the facility. These steps will help the healthcare provider's office to keep other people in the office or waiting room from getting infected or exposed. Ask your healthcare provider to call the local or state health department. Persons who are placed under active monitoring or facilitated self-monitoring should follow instructions provided by their local health department or occupational health professionals, as appropriate.
If you have a medical emergency and need to call 911, notify the dispatch personnel that you have, or are being evaluated for COVID-19. If possible, put on a facemask before emergency medical services arrive.
South Central Regional Medical Center's Annual Art of Healing Rescheduled to July 11, 2020
Updated 3.11.20 at 10 a.m.
According to the Mississippi State Department of Health (MSDH), there have been no incidents of the coronavirus reported in Mississippi. However to be proactive, and with input from the MSDH and the leadership of South Central Regional Medical Center's medical staff, the event planners for Art of Healing have decided to reschedule the date of the event to Saturday, July 11, 2020 at 7 p.m.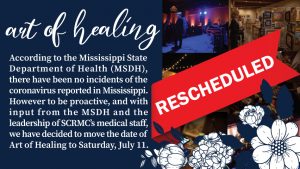 Becky Collins, Executive Director of the South Central Health Care Foundation stated, "The event will be exactly the same as originally planned. Two of the key components of this event are the venue at The Gables and the band Dr. Zarr's Amazing Funk Monster. They have been contacted and graciously worked with our team to secure the new date for the event. All current ticket holders and sponsors are able to use tickets for the upcoming event on Saturday, July 11. If anyone has any questions regarding the event, please contact our office at 601-399-0503."
South Central Health Care Foundation hosts Art of Healing as an annual auction and social event to serve as our main fundraiser. The South Central Health Care Foundation's primary purpose is to improve the health of the community. Over the last year, hundreds of area residents have participated in free programs offered through the South Central Health Care Foundation and lives have been saved as a result of the initiatives.
For more information regarding Art of Healing, please contact our office at 601-399-0503 or bcollins@scrmc.com. More information regarding the upcoming event will be available at scrmc.com.
All messages are provided in conjunction with the Mississippi State Department of Health Guidelines.