Home Health Services Aid in Patient Care
ComfortCare Home Health Ranks in Top 20% in Nation
As a person ages, their health decreases and requires more personalized care that cannot always be provided by loved ones. It is often assumed that when someone needs more help than friends and family can provide, that treatment is limited. However, home health services can provide a continuum of care to a person in their own environment. ComfortCare Home Health, a division of South Central Regional Medical Center, offers a home care program that can provide care for area residents.
Dean Nickens, Director of ComfortCare Home Health states, "After an acute illness or being in the hospital, leaving the home is very difficult especially for elderly patients. Home health gives an opportunity to bring the care to them, which improves their safety, decreases their fall risk, decreases that taxing effort of having to get outside and get to the clinic or the hospital setting when we can bring those services straight to them."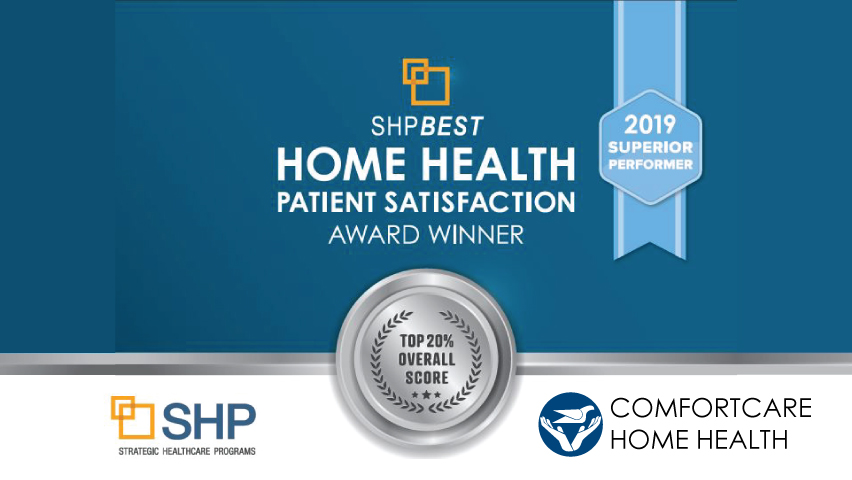 Often after a surgery, patients receive wound care treatment or IV therapy to treat infections. With home health services, these procedures are provided in the comfort of a patient's home. Home health can also provide assistance with diabetic care, oncology/chemotherapy care and pediatric care. Along with nurses, a team of physical therapists, occupational therapists, nutritional consultants and social workers are available to each patient. Medicine education and disease education are provided to help ensure patients receive excellent care.
"For many who are elderly, they are not able to leave their home as often as they would like," states Nickens. "They
are limited with where they can go, so our caregivers develop relationships with patients and their loved ones. Home health is a beneficial service to those who are in need."
ComfortCare Home Health was ranked in the top 20% in the nation for quality and patient satisfaction during the 2019 calendar year. The ultimate goal of ComfortCare Home Health is to return the patient to their maximum level of functioning. ComfortCare Home Health provides high-quality health services in a home setting tailored to meet the individual needs of each patient. If you or a loved one is interested in learning more about ComfortCare Home Health, please contact your primary care physician for a referral, call 601-425-7521 or visit scrmc.com.
Top Reasons for Choosing Home Health Care
Home care is delivered at home. When we are not feeling well, most of us ask to be at home. We enjoy the comfort of our residences and the joy of being with our loved ones. When our loved ones are ill we try to get them home and out of the hospital as soon as possible.
Home care keeps families together. This is particularly important in times of illness. The ties of responsibility and caring can be severed by hospitalization.
Home care prevents or postpones hospital admission.
Home care promotes healing. There is scientific evidence that many patients heal faster at home.
Home care is safe. Many risks, such as infection, are eliminated or minimized when care is given at home.
Home care allows for the maximum amount of freedom for the individual. Patients at home remain as engaged with their usual daily activities as their health permits.
Home care promotes continuity. The patient's own physician continues to oversee his or her care.
Home care is personalized and tailored to the needs of each individual. Patients receive one-on-one care and attention.
Home care is less expensive than other forms of care, especially lengthy inpatient hospitalization.
Home care is the form of care preferred by the American public.
Home care can prevent re-hospitalization and decrease the need for urgent care.