South Central Wound Care & Hyperbaric Medicine Offers New Technology MolecuLightDX for Diabetic Ulcers
South Central Wound Care & Hyperbaric Medicine was selected by Healogics to have access to a MolecuLightDX point-of-care wound imaging device as part of a quality improvement program. The MolecuLightDX shines safe violet light to expose elevated bacterial loads in wounds. This non-contacting device informs better clinical decisions and also performs digital wound area measurement to monitor the progress of wounds.
Sometimes bacteria cannot be seen with the naked eye, however the images produced through MolecuLightDX provide a better direction on how to treat wounds. The MolecuLightDX is a portable point-of-care imaging device that uses a safe violet excitation light (405 nm) to cause wound components (skin, slough, blood, bacteria, etc.) to fluoresce different colors.
Red fluorescence indicates the presence and location of elevated bacterial loads
Cyan fluorescence indicates the presence and location of Pseudomonas aeruginosa
Tiffany Keith, PA, Wound Care medical provider states, "The MolecuLightDX helps to better inform us in clinical decision making and help combat unnecessary antibiotic use. The device allows for a better guide to cleansing, debridement and sampling to regions with high bacterial loads. It also facilitates standard image and video capture as well as digital wound measurement for thorough wound tracking and documentation."
The MolecuLightDX at South Central Wound Care provides quick and highly accurate digital wound measurement for wound progression. This will allow for the facility to automatically graph and track wound progression during the patient's treatments and lead to quicker wound healing.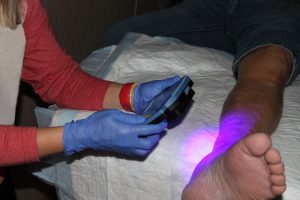 Keith states, "It is estimated that over two million Americans suffer from diabetic foot ulcers. These and other wounds may develop from a variety of different medical conditions, and may not heal for many different reasons. Typically, a wound that does not respond to normal medical care within 30 days is considered a problem or chronic wound. By identifying infections early, it helps improve the outcome."
The skilled staff at South Central Wound Care and Hyperbaric Medicine provides a state-of-the-art center with a comprehensive approach to wound care treatment that advances the healing process.
"The mission of our facility is to be wound healing experts and to increase education in prevention to help heal wounds and change lives. We are committed to advancing wound healing with our patients and in our community."
For more information about South Central Wound Care and Hyperbaric Medicine Center, please call 601-426-4739. The Wound Care Center is located at 1220 Jefferson Street in Laurel on the ground floor of South Central Regional Medical Center.