"I would not be here today if that little boy's mom had made a different decision." – The importance of being an organ donor.
Brooke Lillie, RN, ADN shares her own personal story to highlight the importance of organ donation.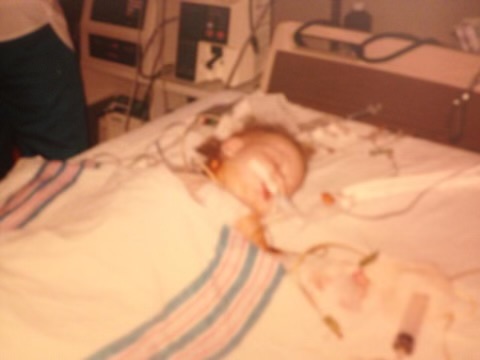 At 13 months old, Brooke was diagnosed with restrictive cardiomyopathy, a change in how the heart muscles function. At UAB, her parents, Will Miley and Kim Graves, were told the only cure for the disease was a heart transplant. She was immediately placed on the organ donation list and began her stay as an inpatient. On December 11, 1996, Brooke was given one of the greatest gifts a person could receive, a heart. The donor, a 13 month old male, was killed in a car accident. Brooke and her parents waited for 5-weeks for the donation.
"Following the donation, we lived in Birmingham," said Brooke. "It was hard for my parents. My mom could not work, and my dad would go home to work and care for my older brother, and they would travel to see us on the weekends. Once we returned home, our lives changed. Visitors were limited, our process to keep germs at a minimum was strict, so that my body would not reject the organ."
According to Cleveland Clinic, organ rejection is common after heart transplant surgery. However, Brooke successfully accepted her new heart. In the years following, her life became as normal as possible for a child. She attended Sumrall High School and participated in cheer, tennis, track and field and show choir. Following high school, she attended Jones College for nursing and was a member of the Bobcat Cheer team. She completed her Associate Degree in Nursing in May 2017.
In 2017, Brooke began her nursing career at Ochsner Health System in New Orleans and received new health news. She was entering kidney failure and would need a kidney transplant. "We knew from the beginning that this may occur. The rejection medications are hard on your kidneys. I decided to work in New Orleans because that was where I would receive my kidney transplant."
However, as Brooke entered the surgery preparation process, her physician found that her kidney function had improved. She was able to delay the transplant, start work as a nurse and marry her best friend, Adam. Adam and Brooke spent two years as a married couple before a kidney transplant was required.
"In the early summer of 2019, my kidney function decreased," said Brooke. On September 23, 2019, Brooke received her second organ transplant, a kidney, from her husband.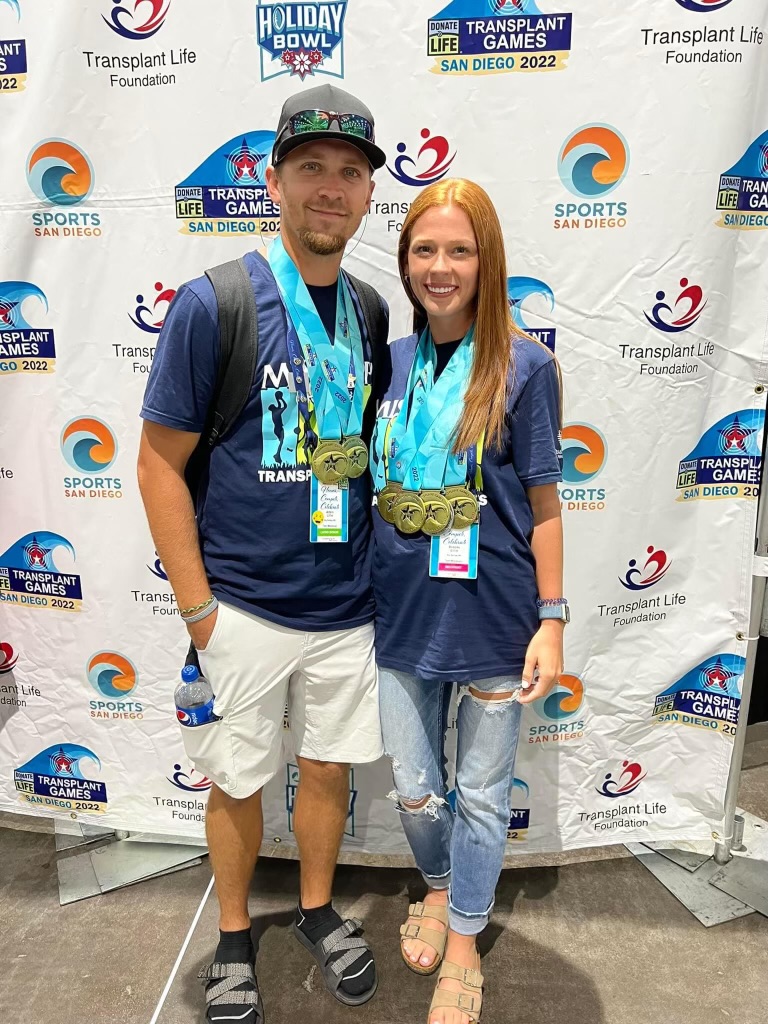 Brooke explains the time after the transplant, "After the donation, we were both on the same ICU floor, a couple of doors down from each other. Our families were able to see both of us. Adam was discharged after two days and I was discharged after three days. We stayed in a hospital based hotel for two weeks following the surgery."
When asked how life was after receiving her second organ donation, Brooke emotionally said, "My husband saved my life. If not for him, I would have had to be on dialysis and a waiting list for years. He did not have to give me a kidney, but he did. He is my hero and truly my perfect match for life."
Brooke limited her interactions in the spring of 2020 due to the uncertainty of COVID and her new organ. On September 23, 2020, the one year anniversary of her kidney transplant, Brooke joined the healthcare family at South Central as a nurse in the Cardiac Cath Lab.
"Today, my organs are fully functioning and healthy," said Brooke. "I go once a year for a heart check-up. I am proud to say that over the 26 years, I have had no rejection with my heart. In 1996, the team said we may get 10 years out of the heart. My parents thought 'it would be great to celebrate her 16th birthday' and we have been able to celebrate 26 birthdays."
Life has come full circle for Brooke. She started with facing her own heart issues and today she is a nurse providing care for patients in cardiology. "I have wanted to be a nurse ever since I was young. What better way to provide a service than something I am so closely connected to."
Brooke's life has been full of challenges, however she never let that limit her. Ever since she was a child, she has attended the Transplant Games of America. Every two years the Transplant Games of America gathers together thousands of transplant recipients, living donors, donor families, and others, to compete in twenty athletic and recreational competitions.
"I have been numerous times, but in 2022, Adam was eligible to compete as a living donor. It was a fun event to participate in together." Together, they represented Team Mississippi. Adam competed in golf and won gold. Brooke competed in basketball, golf, disc throw and race/walk and won gold. She also won silver in high jump and bronze in long jump and softball.
"To see people from all across the world who represent some form of organ donation, is one of the coolest things I have ever been to," said Brooke. "It shows how life changing organ recovery is for people."
Brooke has been a spokesperson for Mississippi Organ Recovery Agency (MORA) and the American Heart Association (AHA). This year, Brooke received a nomination from the AHA as a Woman of Impact. Brooke continues to advocate for organ donation in her community. "I would not be here today if that little boy's mom had made a different decision. It is a hard situation to be in and I cannot imagine how she could make such a self-less act. But, I am so very thankful she did. Every organ donor has the potential to save eight people."
Dustin Newman was the 13-month old boy whose heart was given to Brooke in 1996. In 2016, Brooke's family learned the name of the donor and in April 2021, Brooke met Dustin's mom. "It was very emotional and very overwhelming. As a gift to the mother, I purchased an animal that recorded heartbeat sounds. I recorded my heartbeat so that she would always be able to hear her son's heart."
The emotional meeting was 25 years in the making. "To meet the person who ultimately decided if I lived or not, was overwhelming and amazing."
When asked what Brooke would want others to know about organ donation, she said, "By being a registered donor, you can give life to someone else in need. It is so much bigger than what it seems by having a little red heart on your driver's license. You are giving someone a whole new life. I am thankful for the life I received and pray each day I can show compassion through my job as a nurse."
MORA is a Mississippi based registry that provides consent for donation. Becoming an organ and tissue donor takes only a few minutes, and can help change the lives of countless individuals. To learn more about organ donation or enroll in the national donor registry, visit msora.org today.