South Central Regional Medical Center Honors Teen Volunteers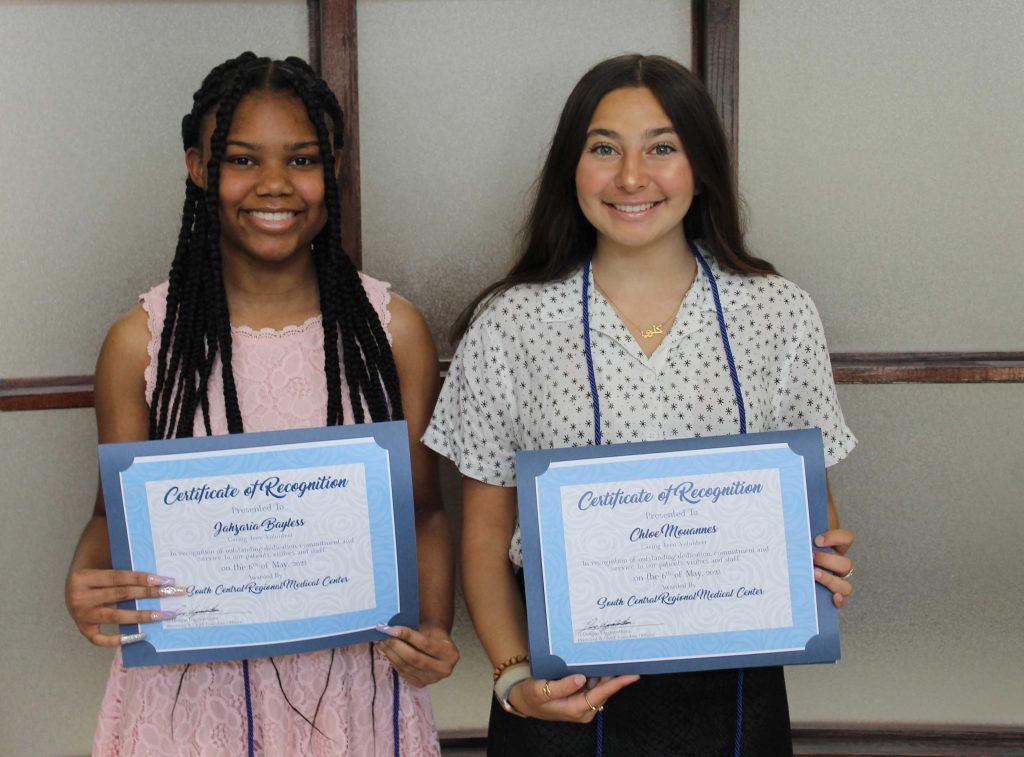 In 2018, South Central Regional Medical Center began a teen volunteer program in conjunction with its adult program. The Caring Teen Volunteer Program is open to local teenagers, ages 16 to 18. Along with providing volunteer opportunities, the teens are able to observe and develop new skills, network with medical professionals, become educated on the various careers available within the healthcare field and make new friends.
South Central Regional Medical Center wishes to recognize two of the Caring Teen Volunteers that donated over 100 hours of service during the 2022-23 year; Chloe Mouannes, senior at Laurel Christian School, and Jahzaria Bayless, senior at Heidelberg High school.
SCRMC's Caring Teen Volunteer Program is designed to encourage teens in our community to join the volunteer team while learning about the various roles in healthcare and earning community service hours. Volunteering makes an immeasurable difference in the lives of others. Volunteering for SCRMC offers many opportunities of service for individuals, ages 16 years old and up. To apply, please visit scrmc.com/community/volunteers, email bsmith@scrmc.com or call 601-426-4704 today.
Information about the Caring Teen Volunteers:
Chloe Mouannes
South Central Regional Medical Center honors Laurel Christian School Senior, Chloe Mouannes, for serving as a Caring Teen Volunteer. Chloe graduated with Honors at LCS in May 2023. She is the recipient of several scholarships including Junior Auxiliary Scholarship, Kiwanis Scholarship and a substantial scholarship from William Carey University.
Chloe volunteered on the Medical-Surgical Floor at SCRMC, Human Resources and other special projects within the medical center. When asked about her time as a volunteer, she stated "volunteering expanded my knowledge about healthcare in a hospital environment, and I enjoyed interacting with the staff.  This opportunity helped me decide on plans after high school."
Chloe plans to attend William Carey University and major in Biology.  Her goal is to become a dermatologist or neurologist.  She hopes to attend Tulane University in the future, as well.
During her summer break, Chloe will travel to Lebanon to visit family and visit the American University which is located there. Chloe is the daughter of Dr. and Mrs. Wassim Mouannes of Laurel.
Jahzaria Bayless
Jahzaria Bayless is Valedictorian of the 2022-23 graduating class of Heidelberg High School. Jahzaria is STAR Student, a Mississippi Scholar, Mississippi-Tech Master Scholar, and received the Outstanding Minority Student Award.  She is the recipient of numerous college scholarships.  She also participated in FBLA, Beta Club and Student Council.
Jahzaria volunteered in South Central's Food Services Department and Pediatric Speech Rehabilitation Department. When asked about her role as a volunteer, she stated, "Volunteering helped me to improve my problem solving skills. I observed the staff working with the patients to meet their individual needs.  I thoroughly enjoyed my time as a volunteer and understood how important each person's role is as they all work together to take care of so many different patients with many different needs."
Jahzaria will attend the University of Southern Mississippi, focusing on the bio-medical sciences.  She hopes to attend medical school to pursue per goal to become a medical oncologist.  She states that she has had several family members who suffered with cancer and she wants to make a difference in helping those who have this disease.
Jahzaria is the daughter of Marquita Love Pickens of Heidelberg.