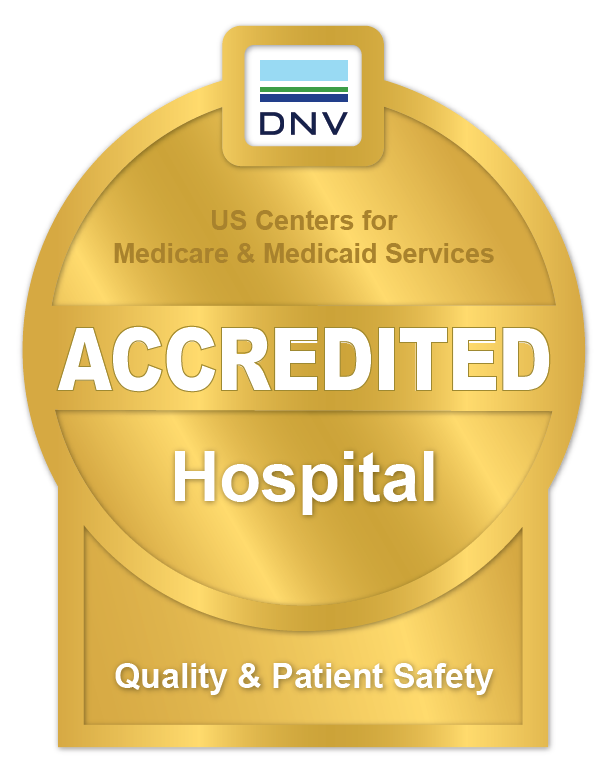 South Central Regional Medical Center was the first hospital in Mississippi to be accredited by DNV Healthcare. South Central was the first DNV accredited healthcare organization in Mississippi.
"The DNV accreditation program provides us the opportunity to simultaneously satisfy our Medicare accreditation requirements and implement the ISO 9001:2015 Quality Management System all at the same time," said Doug Higginbotham, Executive Director at South Central Regional Medical Center. "This is much more than an accreditation program, it's a catalyst for our ongoing commitment to patient safety and clinical quality."
Accreditation can directly affect the quality of hospital care. Why? Because while undergoing the accreditation process, a hospital makes critical decisions about how it provides services, manages medications and allocates resources. In short, accreditation impacts the way hospitals operate.
 Taking Accreditation to an All New Level
DNV Accreditation is based on the company's innovative NIAHO standards.  NIAHO is the National Integrated Accreditation for Healthcare Organizations and encourages collaboration between different hospital departments.  Unlike previous approaches to accreditation, DNV focuses on what works best for each hospital and therefore opens the door to innovation.
South Central Regional Medical Center has been Joint Commission accredited for years and hospital personnel are very familiar with the accreditation process, but Joint Commission does not require ISO certification. "We felt that by moving from Joint Commission accreditation to DNV accreditation we were taking our organization to an all new level," he said. "The DNV/ISO 9001 process required a lot of hard work on our part, but has provided tremendous benefits for our health system," Higginbotham.
ISO is the International Organization for Standardization.  ISO standards ensure that products and services are safe, reliable and of good quality.  ISO is recognized by businesses around the world as the benchmark for continual quality improvement.  Innovative hospitals have started embracing ISO as a way to identify and focus on the most successful approaches to patient care, billing and other critical aspects of running a modern hospital system.
As with all accreditation programs, surveyors from the organization will visit the hospital on regular annual intervals to monitor the organization's progress in implementing the new requirements.
December 13, 2021
SOUTH CENTRAL REGIONAL MEDICAL CENTER RECEIVES QUALITY-BASED ACCREDITATION FROM DNV
LAUREL, MS, — South Central Regional Medical Center (SCRMC) announces the successful completion of its new accreditation process that has been awarded by DNV.
By earning accreditation, SCRMC has demonstrated it meets or exceeds patient safety standards (Conditions of Participation) set forth by the U.S. Centers for Medicare and Medicaid Services. DNV's accreditation program is the only one to integrate the ISO 9001 Quality Management System with the Medicare Conditions of Participation.
"The DNV program is consistent with our long-term commitment to quality and patient safety," says Dr. Teresa Camp-Rogers, Chief Quality Officer at SCRMC. "The ability to integrate ISO 9001 quality standards with our clinical and financial processes is a major step forward."
SCRMC has three years from the date of its accreditation to achieve compliance with ISO 9001, the world's most trusted quality management system used by performance-driven organizations around the world to advance their quality and sustainability objectives.
"We have taken an entirely different approach to accreditation, and hospitals are really responding," says DNV Healthcare USA Inc. President Patrick Horine. "Since accreditation is a must-have credential for just about every hospital in this country, why not make it more valuable, and get more out of it? That's where ISO 9001 comes into play and turns the typical get-your-ticket-punched accreditation exercise into a quality transformation."
DNV's accreditation program, called NIAHO® (Integrated Accreditation of Healthcare Organizations), involves annual hospital surveys – instead of every three years – and encourages hospitals to openly share information across departments and to discover improvements in clinical workflows and safety protocols.
About South Central Regional Medical Center
South Central Regional Medical Center operates as a 285-bed hospital, an alcohol and drug inpatient detox facility, a wound care center with hyperbaric oxygen chambers, a cancer center, 22 medical clinics, two large nursing homes, a wellness and rehabilitation center, a home care and hospice division, a full service ambulance service, an emergency department which has 42,000 patient visits annually, and numerous other programs and services. More than 2,100 individuals are employed throughout health system and approximately 125 providers representing 28 medical specialties provide care to patients. SCRMC serves as the second largest employer in Jones County.
SCRMC's current service area includes a patient population of 120,000 residents in 4 counties—Jones, Jasper, Smith and Wayne Counties. South Central is a public, not for profit hospital owned by Jones County, MS, who has an economic impact to our local community annually of almost $200 million.
 About DNV
DNV is a global independent certification, assurance and risk management provider, operating in more than 100 countries. Through its broad experience and deep expertise, DNV advances safety and sustainable performance, sets industry benchmarks, drives innovative solutions.
Whether certifying a company's management system or products, accrediting hospitals, providing training, assessing supply chains or digital assets, DNV enables customers and stakeholders to make critical decisions with confidence, continually improve and realize long-term strategic goals sustainably.
DNV draws on its wide technical and industry expertise to help companies worldwide build consumer and stakeholder trust. Driven by its purpose, to safeguard life, property, and the environment, DNV helps tackle the challenges and global transformations facing its customers and the world today and is a trusted voice for many of the world's most successful and forward-thinking companies.
For more information about DNV, visit www.dnvcert.com/healthcare.