Fitness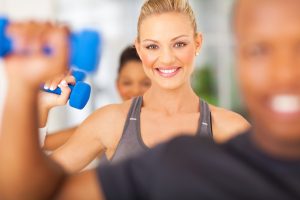 There is a large variety of great services and opportunities offered from fitness assessments and group exercise classes, to specialty exercises, and personal training, the fitness area will be able to meet your needs and goals. Our amazing staff consists of Exercise Physiologists, Fitness Instructors, Certified Group Exercise Instructors, and Certified Personal Trainers. For more information on each area of fitness, stop by the Wellness Center Front Desk or call  (601) 399-0530.
Membership Includes:
The Wellness Center offers a physical health assessment to each new member. New members complete a medical history prior to the assessment to determine if there are conditions present that require attention by a physician.  The assessment includes testing in flexibility, upper body strength, and hand grip strength.  Based on the results of the assessment, an exercise physiologist develops an exercise prescription for the individual. The member then completes an orientation on the fitness floor where the exercise physiologist explains frequency, duration, intensity, and mode of the exercise program.
For more information, call 601-399-0530.
South Central Wellness Center
1002 Jefferson Street, Laurel, MS 39440
Phone (601) 399-0530
Revised hours of operation:
Revised hours of operation:

Monday – Thursday, 6 a.m. – 7 p.m.
Friday, 6 a.m. – 5 p.m.