Personal Training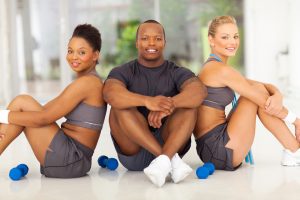 South Central's Wellness Center personal training focuses on the physical dimension of health and wellness. Wellness Center Personal Trainers are nationally certified. They are ready to develop an exercise program specifically for you and to inspire you to an elevated level of physical fitness.
Why hire a Personal Trainer?
Think about all of the time you might otherwise waste utilizing a program that doesn't work for your body type, your genetics, and your exercise history. As experts in the field of fitness, our personal trainers can help you safely and efficiently accomplish your goals, whatever they may be, by working with you one on one. You will learn how to correctly lift weights and optimally perform cardiovascular exercise. From being your motivator to being your teacher, our personal trainers will be there for you.
What Can You Expect from a Personal Trainer?
Personal trainers provide an exercise prescription based on your needs and goals. Along with motivation and support, the certified, knowledgeable, and professional staff at the Wellness Center provide complete confidentiality of all records and workouts.
How Do You Get Started?
To get started with a personal trainer, schedule your FREE consultation to talk to a personal trainer about your medical history, lifestyle, and personal goals. A consultation is an opportunity for you to meet with a certified personal trainer absolutely free of charge! This session is used for you and your trainer to discuss any and all of your goals, questions or concerns relating to fitness and wellness. If you are curious to see if personal training is right for you, a consultation is a great way to find out. We require all of our members choosing to participate in personal training to have a consultation. This is done to ensure that you receive a quality personal fitness program and are medically ready for exercise. Your health and well-being is always our highest priority! To schedule a consultation, please stop by the Wellness Center or call  (601) 399-0530.
Stop by the front desk or call (601) 399-0530 with any questions.