South Central Industrial Medicine
Specialty
Address
1430 Jefferson St.
Laurel, MS 39440
Contact
info@scrmc.com
601-426-3421
Hours
Monday - Friday
8 a.m. - 5 p.m.
Click here to access our secure South Central Clinics Patient Portal.
Industrial Medicine Services – Open 5 Days a Week – 601-426-3421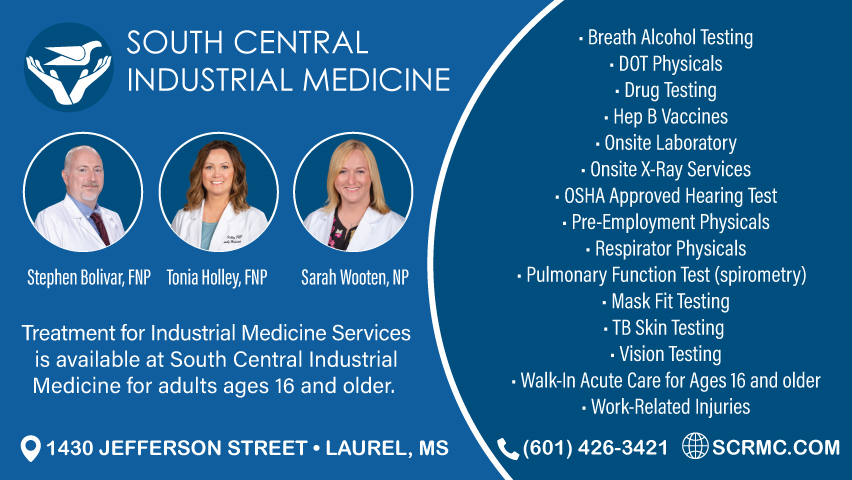 Treatment for Industrial Medicine Services is available at South Central Industrial Medicine for adults ages 16 and older. Type of procedures or treatments available are:
Breath Alcohol Testing
DOT Physicals
Drug Testing
Hep B Vaccines
Onsite Laboratory
Onsite X-Ray Services
OSHA Approved Hearing Test
Pre-Employment Physicals
Respirator Physicals
Pulmonary Function Test (spirometry)
Mask Fit Testing
TB Skin Testing
Vision Testing
Walk-In Acute Care for Ages 16 and older
Work-Related Injuries
South Central Industrial Medicine accepts Workman's Compensation, Medicare, Medicaid and Most Commercial Insurance.
This facility is a clinic owned by South Central Regional Medical Center. Office visits are subject to co-pays. You may also be responsible for co-insurance and deductible for office procedures and ancillary services, such as laboratory services and x-rays when performed.