South Central Diabetes Center offers diagnosis, treatment, medication management, education and support group services for those living with diabetes.
South Central Regional Medical Center in Laurel has developed a diabetes program, South Central Diabetes Center. The center is accepting all diabetic patients to aggressively manage treatment for their diabetes. Practicing a proper diet, increasing exercise and weight loss are the main forms of traditional treatment in diabetes. However, there are many new services, medications, training and teaching tools available, that are able to manage diabetes effectively and reduce side effects and complications.
As many as 40 percent of adult Mississippians over the age of 65 have diabetes. And with that, the vast majority of type 2 diabetics do not know they are living with this disease. Given that Mississippi has the highest rate of obesity in the country, the state also has the highest rate of diabetes in the country. Mark Horne, MD, Medical Director of South Central Diabetes Center, is working to lower this rate and for patients to understand the signs and symptoms associated with diabetes.
"Diabetes is an incredibly common and complex disease," states Dr. Horne. "Diabetes is too much glucose, or sugar, in your blood. There are two primary types of diabetes: Type 1 and Type 2. The majority of adult patients are living with Type 2 diabetes. Most people who have diabetes walk around day to day with no understanding of what is occurring inside their bodies."
For many people, it is difficult to notice signs or symptoms that could signal diabetes, but there are some signs to watch for. These include: blurred vision, scratches or wounds that will not heal as quickly, increased thirst, frequent urination and fatigue. While signs and symptoms may be more difficult to acknowledge, testing for diabetes is relatively easy. Dr. Horne explained that "a simple blood test, even a finger prick blood test, can confirm the diagnosis. There is a dramatic improvement in the quality of life by knowing that you are a diabetic and treating it effectively."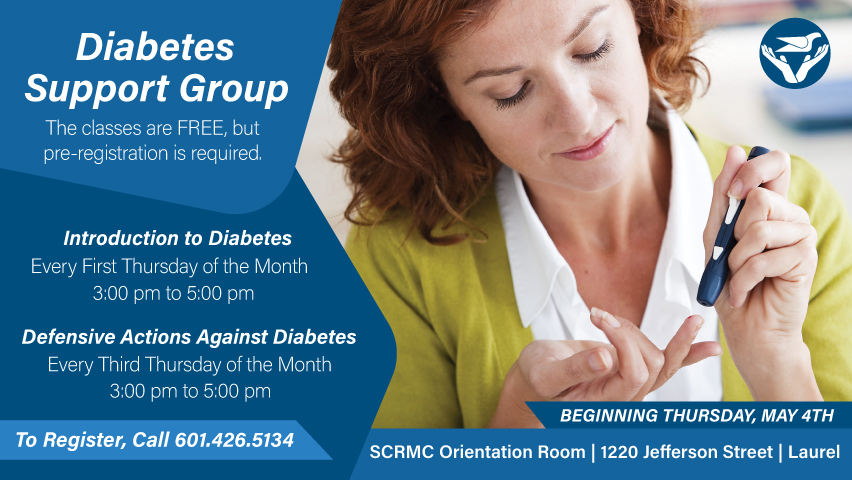 SCRMC offers FREE diabetes classes twice a month to anyone living with diabetes.
 It is estimated that a total of 34.2 million Americans are living with diabetes, and 88 million adult Americans have prediabetes. Living with diabetes can lead to major complications within a person's body. If unattended, a person's life can completely change. However, with help, diabetes is a disease that can be managed with proper education and lifestyle changes. South Central Regional Medical Center offers diabetes education classes for those who may need assistance.
The Diabetic Support Group is open to the community. "This group is a great way for people with diabetes to learn more about the disease, to meet other people with diabetes and generally improve their health. One of the major advantages about the support group is that everyone shares the same issue or has family members that have the same issue. This support group becomes like a family and creates the opportunity to make lifelong friendships."
Introduction to Diabetes is held the first Thursday of each month from 3 pm – 5 pm. Defensive Actions Against Diabetes is held the third Thursday of each month from 3 pm – 5 pm. All classes are free and are held at South Central Regional Medical Center. Pre-registration is required. Call 601-426-5134 to register.
This Program Begins on Thursday, May 4 at 3:00 p.m.