South Central General Surgery
Specialty
Address
1002 Jefferson Street
Suite 400
Laurel, MS 39440
Contact
info@scrmc.com
601-649-7802
Hours
Monday - Friday
8 a.m. - 5 p.m.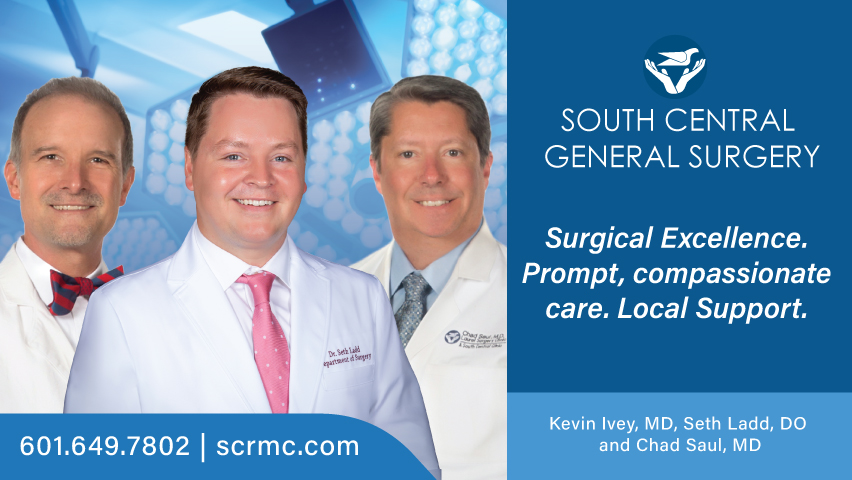 Click here to access our secure South Central Clinics Patient Portal.
South Central General Surgery provides quality surgical services.  General surgery services provided include:
Abdominal Surgery
Breast Procedures & Surgery
Colon, Rectal & Anal Surgery
Hemorrhoids
Hernias
Laparoscopic Surgery
Minor Skin Procedures
Oncological (Cancer) Surgery
Robotically-Assisted Surgery
Thyroid & Parathyroid Surgery
Trauma & Emergency Surgery
South Central General Surgery is accepting new patients.
Medicare, Medicaid and Most Commercial Insurance Plans are Accepted.
For an appointment, please call (601) 649-7802.
This facility is a clinic owned by South Central Regional Medical Center. Office visits are subject to co-pays. You may also be responsible for co-insurance and deductible for office procedures and ancillary services, such as laboratory services and x-rays when performed.
Receive appointment reminders directly to your cell phone. Sign up today for text messages! It's quick and easy: Text SCClinic to 622622 to complete registration or scan the QR code now. Message and data rates may apply.