South Central Pulmonary Medicine
Specialty
Address
1203 Jefferson Street
Laurel, MS 39440
Providers
Hours
Monday - Friday
8 a.m. - 5 p.m.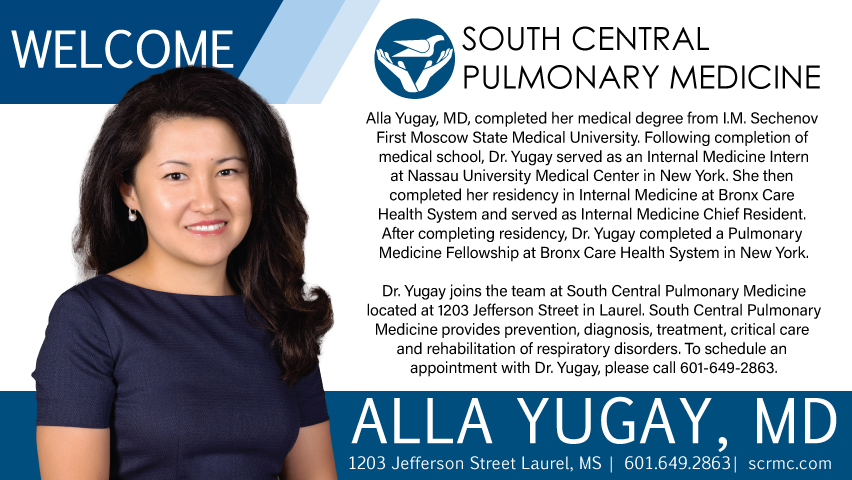 South Central Pulmonary Medicine provides compassionate care in an outpatient setting for a broad range of respiratory conditions. We treat asthma, COPD, lung infections, interstitial lung diseases, pulmonary thromboembolic disease and pulmonary hypertension. We also diagnose lung cancer.
Medical Services include:
ARDS
Asthma
COPD
Interstitial lung diseases
Pneumonia
Emphysema
Pulmonary thromboembolic disease
Pulmonary hypertension
Tuberculosis
South Central Pulmonary Medicine is located at 1203 Jefferson Street inside South Central Clinics in Laurel. To schedule an appointment, call 601-649-2863.
This facility is a clinic owned by South Central Regional Medical Center. Office visits are subject to co-pays. You may also be responsible for co-insurance and deductible for office procedures and ancillary services, such as laboratory services and x-rays when performed.
Receive appointment reminders directly to your cell phone. Sign up today for text messages! It's quick and easy: Text SCClinic to 622622 to complete registration or scan the QR code now. Message and data rates may apply.