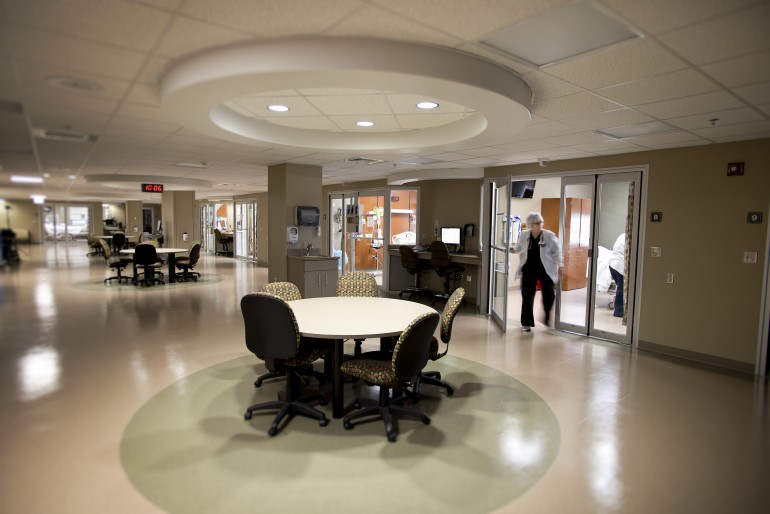 Nothing showcases South Central Regional Medical Center's cutting-edge medicine as much as the modern-day Intensive Care Unit, which opened in November 2010.
Doug Higginbotham, President and Chief Executive Officer at South Central Regional Medical Center, said," Our primary goal at South Central is to provide the best care possible for our patients. In order to accomplish that goal, we must constantly upgrade technology and facilities." Prior to developing plans for any new area at South Central, physicians, nurses and other health care professionals met to determine the best design for the area. "We always consider efficiency, work flow and patient safety when developing any new clinical area," Higginbotham said.
The new 13-bed intensive care unit at South Central offers the latest technology in the ICU field. The Carescape CIC Pro, a computerized viewing station near the bedside, allows physicians and nurses to quickly navigate and review relevant patient information to help enhance clinical decision support at the point of care. They can see real-time and historical trends to help make informed treatment decisions.
The patient bed is of key importance in a critical care unit. The new TotalCare beds manufactured by Hill-Rom effectively help treat conditions related to immobility. Each bed includes a tilt table which easily moves into full chair position. The "Smart Bed" technology is the best in its class for patient monitoring. It offers customizable alerts and provides automatic charting capabilities. The Advanced Microclimate technology removes heat and moisture from the bed surface and maintains the ideal thermal comfort range for the patient.
Kim Dobbs, M.D., Pulmonologist at South Central and Chairman of the medical center's Critical Care Committee, said, "I have cared for patients at South Central for almost 10 years and I am pleased with the efforts made by administration to make our intensive care unit world class. I have worked in intensive care units across the Southeast and this unit rivals any that I have seen."
Dr. Dobbs is extremely pleased that the new intensive care unit allows nurses to be at the bedside of each patient rather than at a nurses station. "Unlike traditional intensive care units where the nurses station is located in the center of the unit, there are small monitoring stations located in between each two rooms to allow nurses easy access to their patients," she said.
Dr. Dobbs continued by saying that the nurses working in South Central's intensive care unit are excellent. They are well trained, but also kind and compassionate caregivers. "Our nursing staff is as good as you will find anywhere," she said.
Dr. Dobbs continued by saying that there are several components to providing excellent critical care–one is the facility and the other is compassionate caregivers. This new facility allows health care professionals at South Central to use their skills to provide the best care possible for our patients," she said. "Working through a critical illness is difficult for everyone–the patient and the family. I am pleased that the new family waiting room is right next door to the new ICU, and a new conference room has been constructed for private discussions between the physician and family."
"We have to keep changing," Dr. Dobbs said. "Medicine is not a static field. If we are going to continue to provide state-of-the-art care, we have to change with it and we have made the commitment to do that."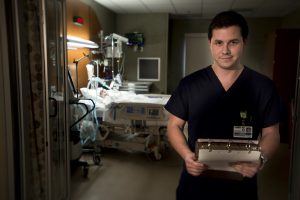 The purpose of the intensive care unit (ICU) is simple even though the practice is complex. Healthcare professionals who work in the ICU provide around-the-clock intensive monitoring and treatment of patients seven days a week. Intensive care has been shown to benefit patients who are severely ill and medically unstable. They typically have a potentially life-threatening disease or disorder.
For more information on SCRMC's Intensive Care Unit, please call 601.426.4425.