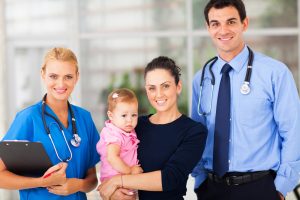 To schedule a tour or for information about South Central Regional Medical Center's Women's and Children's Services, please call 601-426-4229 or 601-426-4455.
At South Central Regional Medical Center, we specialize in the tailored, individual attention that puts moms at ease and babies in the best care.
Features of South Central's Maternal Child Inpatient facility:
19 beds on the Maternal Child/Gynecological Surgery Unit
A Labor and Delivery Unit with 5 Labor, Delivery and Recovery (LDR) rooms and 6 Antepartum, Outpatient Evaluation and Extended Recovery rooms.
Surgical area that has two C-Section rooms.
State-of-the-art fetal monitoring system in all of the patient rooms and at the nurses' station.
32-bed nursery: The well-baby and transitional areas accommodate 12 infants each and the intensive care nursery accommodates eight infants.
Women's health physical therapy program, which facilitates wellness and healing. The program offers outpatient services to women with urinary incontinence problems.
The facility features all the warm and cozy comforts of home plus expert caregiving when you need it most.

Woodgrained Flooring
Dark Wood Furniture
Entertainment Center with TV
Sofa Bed
Rocker
Large Bathroom with Sitz Bath
Caring for New Mothers, Infants, Children and Adolescents
Maternal and child service nurses help expectant mothers through labor and delivery. They also provide advanced clinical care to infants, children and adolescents. You will find nurses specializing in maternal and child services in these hospital areas:
Labor and Delivery:  Our expert, patient-focused labor and delivery nurses help mothers-to-be through every step of the birth process.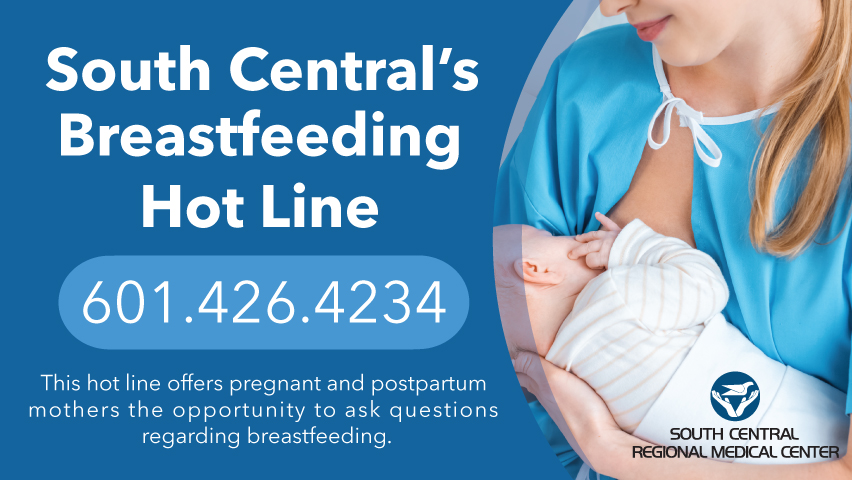 Mother and Baby Care:  New mothers and their babies receive care from a compassionate and highly skilled nursing team. Nurses provide education, breastfeeding support and follow-up based on the specific needs of families with new babies.
Breastfeeding Hot Line: 601-426-4234
Breastfeeding can be challenging, however help is available 24/7 from SCRMC. The South Central Breastfeeding Hot Line was developed to provide our pregnant and postpartum mothers the opportunity to ask questions concerning breastfeeding.  This services is available to our community 24/7 and gives a direct line to a Certified Lactation Consultant or Nursery RN that has been specially trained to answer breastfeeding questions. If necessary, staff can refer to a medical provider.
South Central Breastfeeding Hot Line is located inside the Maternal Child Nursery at SCRMC and is an excellent resource utilized by our moms.
Newborn Nursery:  South Central has a beautiful 32-bed nursery The well-baby and transitional sections of the nursery can accommodate 12 infants each, and the intensive care nursery can accommodate 8 infants. The nursery encompasses approximately 2,800 square feet, making you and your new little one feel comfortable. Medical direction of the nursery is provided by pediatricians on staff at South Central Regional Medical Center 24 hours a day, 7 days a week. All babies have a designated nurse to care for their individual needs. The team of healthcare professionals in the nursery has received certification in infant resuscitation and extensive training in well baby and sick baby care. Parents are provided instruction specific to the care of the newborn, and new mothers are given individual instruction on breastfeeding their infant. South Central has a flexible rooming-in policy which allows the new mother and other family members to bond with the
new baby.
Pediatrics:  South Central Regional Medical Center offers inpatient pediatric care staffed by clinical personnel with years of experience in the pediatric field.
To provide our patients with the optimal level of care, our Laurel and Ellisville Pediatric Clinics are convenient to Jones County residents and surrounding areas to insure your child is well cared for by our team of specialized physicians and nursing staff.
Ellisville Pediatric Clinic               
1203 Avenue B
Ellisville, MS 39437
(601) 477-3550
Laurel Pediatric Clinic
234 S. 12th Avenue
Laurel, MS 39440
(601) 649-3520
Gynecological Surgery
The field of surgery is ever-changing, and at South Central Regional Medical Center we are committed to keeping up with the latest advancements in surgical technology. With years of experience in the field of surgery, the staff at South Central Regional Medical Center provides a wide range of gynecological surgeries, as well as other conventional surgeries. Some surgical procedures are performed on an outpatient basis which provide convenience and shorter recovery times. Regardless of the kind of surgery you need, you can depend on the experience, technology and the caring staff at South Central Regional Medical Center. If are you are planning to have a baby, or are planning to have gynecological surgery, call us for a tour of The Women's Place.