Breastfeeding Hot Line | 601-426-4234
Breastfeeding can be challenging, however help is available 24/7 from SCRMC. The South Central Breastfeeding Hot Line was developed to provide our pregnant and postpartum mothers the opportunity to ask questions concerning breastfeeding.  This services is available to our community 24/7 and gives a direct line to a Certified Lactation Consultant or Nursery RN that has been specially trained to answer breastfeeding questions. If necessary, staff can refer to a medical provider.
South Central Breastfeeding Hot Line is located inside the Maternal Child Nursery at SCRMC and is an excellent resource utilized by our moms.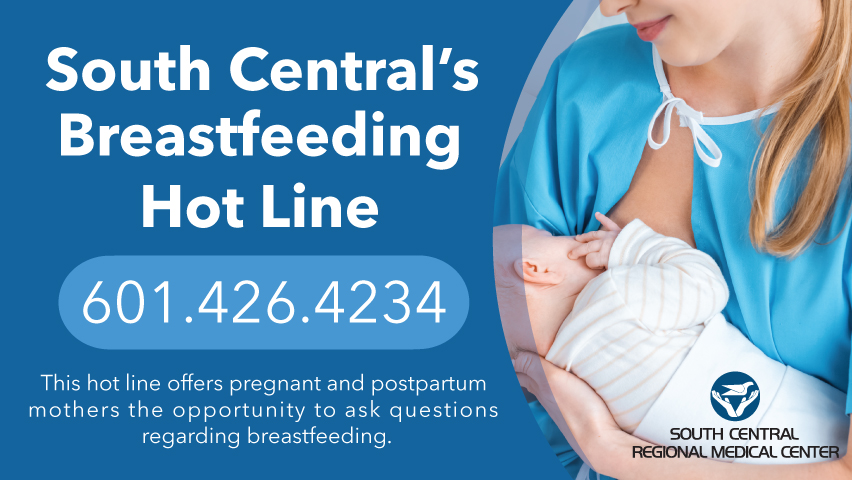 South Central Regional Medical Center Receives Prestigious Baby-Friendly Designation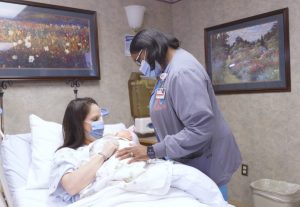 South Central Regional Medical Center is proud to announce that it has achieved the highly prestigious international Baby-Friendly designation after a rigorous review process conducted by Baby-Friendly USA, the organization responsible for bestowing this certification in the United States. Baby-Friendly is the gold standard for maternal child practices.
This distinguished honor demonstrates that SCRMC is adhering to the highest standards of care for breastfeeding mothers and their babies. These standards are built on the Ten Steps to Successful Breastfeeding, a set of evidence-based practices recommended by the World Health Organization (WHO) and the United Nations Children's Fund (UNICEF) for optimal infant feeding support in the precious first days of a newborn's life.
The positive health effects of breastfeeding are well documented and widely recognized by health authorities throughout the world. For example, the Surgeon General's 2011 Call to Action to Support Breastfeeding stated that "Breast milk is uniquely suited to the human infant's nutritional needs and is a live substance with unparalleled immunological and anti-inflammatory properties that protect against a host of illnesses and diseases for both mothers and children."
SCRMC joins a growing list of more than 20,000 Baby-Friendly hospitals and birth centers throughout the world, 592 of which are in the United States. These facilities provide an environment that supports breastfeeding while respecting every woman's right to make the best decision for herself and her family.
Cynthia Bonner, RN, Director of Maternal Child Services states, "We are extremely proud to be recognized for the hard work of our team members throughout the Baby-Friendly process. SCRMC is committed to providing the support, education and resources moms need to successfully initiate breastfeeding and continue breastfeeding when they leave our care."
SCRMC began the journey to become designated as a Baby-Friendly organization in 2018.
Becky Page, RN, IBCLC, Maternal Child Coordinator, states, "When parents choose SCRMC as their birthing hospital they can expect nurses who have the latest evidence based education to help them reach their goal of feeding their infant.  As a Baby-Friendly hospital each nurse has completed 20 hours of breastfeeding education.  Our hospital has exceeded that goal and we now have 5 Certified Lactation Consultants (CLC) and one of a few International Board Certified Lactation Consultants (IBCLC) in our state on staff.  Nurses having advanced education results in our breastfeeding mothers being better educated and more successful upon discharge. Baby-Friendly Hospital Initiative has brought cohesiveness to our facility, upholding the highest standards of infant care. South Central Regional Medical Center is proud to have achieved this goal!"
"This designation is the culmination of a lot of hard work and determination across our organization, all with a goal of helping families get off to a good start," said Bonner. "We are proud to offer an environment that supports best practices shown to increase breastfeeding exclusivity and duration and are committed to give moms who choose to breastfeed the best chance for success."
How has Baby-Friendly helped childbirth evolve?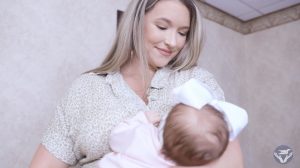 Baby-Friendly was implemented to protect, promote and support breastfeeding. Becky Page explains the changes at South Central Regional Medical Center.
"Years ago, all babies went straight to the nursery immediately after delivery. The mom did not receive the 'golden hour' with her child. After carrying a baby for 9 months, it is important to the baby and the mother to experience this time together. Today, we focus on keeping mothers and babies together."
Golden Hour is a one hour bonding time for mother and baby. Patricia Tibbs, MD, Pediatrician, explains, "This begins as soon as the baby is born. It turns out that this one hour golden hour is bonding time that is so physiologically important for the mother and for the baby. Moms may put the baby on their chest and the baby rests for a few minutes, the baby lays there looking around, they may fall asleep, but then wakes up about 15 minutes later and it's amazing to watch how babies will find the breast. They just crawl up to find it. It is so beautiful and a lot of moms are amazed at what happens."
Following delivery at SCRMC, the newborn has its first cry and is immediately placed on the mother's chest for skin-to-skin for one hour. During this time, most infants begin breastfeeding. After, the Nursery at SCRMC is able to start transitional care in the room with mom.
Cynthia Bonner explains, "This is a new process that offers a family orientated delivery. Mom is there to see the process that is occurring to the baby. The parents are able to see them give a first bath, the immunization and to see the hearing screening. This process allows mom and baby to stay together throughout the hospitalization."
What is the benefit of breastfeeding for a mother and an infant?
 The Baby-Friendly USA program states that breastfeeding is the optimum feeding for newborns. Hospitals who participate in the Baby-Friendly program make it a priority to give moms the opportunity to succeed with breastfeeding.
Dr. Tibbs explains the benefit for babies. "For the baby, breast milk is best. It has everything in it that is optimum for a baby's needs. Most importantly, the protein and carbohydrate ratios are perfect. There are also immune benefits. Babies who are exclusively breastfed have less ear infections, less respiratory illnesses, and generally are healthier down the road in terms of disease and getting infections."
Ashley Floyd, WHNP, CLC, OB-GYN Nurse Practitioner, explains benefits to mom. "Mothers have many benefits from breastfeeding.  We see a decreased risk of postpartum hemorrhage, decreases in the chance of getting breast cancer, becoming a diabetic, chance of having a heart attack and decreased risk of depression. She usually returns to her pre baby weight much quicker."
South Central Regional Medical Center starts with education from the very first prenatal visit. Mothers are given education beginning at their first visit and periodically throughout. Their healthcare providers take the opportunity to talk with them about their feeding plans, their preferences, meet them where they are, and then help provide them with any education that they need. The OB-GYN group offers support that they need throughout the pregnancy before they arrive at the hospital. Patients continue to receive support from hospital staff once admitted for delivery.
Ashley states, "If we can support moms now, we can break down barriers and make sure that they have the support and education they need to succeed. Our goal is to create a community that accepts breastfeeding, that normalizes it, and through that we will see those results for generations to come with an overall healthier population for Laurel and Mississippi in general."
South Central Regional Medical Center offers a breast-feeding hotline 24 hours a day 7 days a week.  Many times a mother gets home and issues arise with feeding. By offering a hotline, educated and qualified staff can answer any concerns that they have about breastfeeding. The number to call is 601-426-4234.